What will a "ReCurved" ClearView Windscreen do for my ride?
ClearView Shields designs replacement motorcycle windshields with the rider's needs in mind. When you build your own personalized ClearView replacement windshield, a variety of customization choices allow you to tailor the screen to your specific body size and riding style. To create a unique windshield designed for each rider, Clearview Shields offers different venting, color, height, width, and Recurve options.
Our Recurve will allow for a slightly shorter height screen without losing the coverage you had with a taller "look-through" screen.
What's our Angle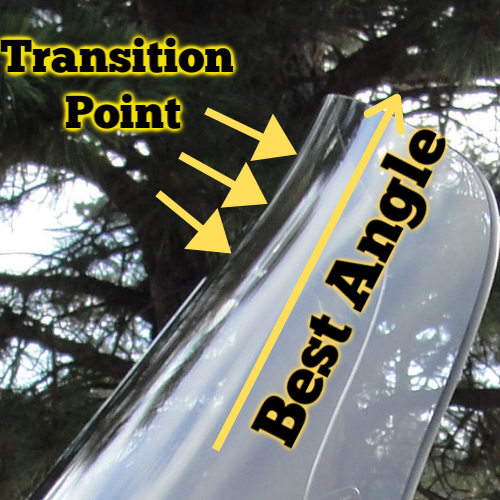 Quite simply put, for Clearview Shields the success or failure of a Recurve Motorcycle Windshield is the measurement of the angle of the top section and the transition to that angle from the lower portion of the screen. Not every windshield will have or need the exact amount of recurve. Clearview developed the Recurve utilizing the knowledge gained from our early years in Wind Tunnel testing. There is an optimal angle that a windshield must take on that will effectively channel the air around the rider, and knowing this means we will only design a screen with a Recurve that will not exceed that angle. We claim 1.5″ to 2″ of lift of the air stream for the rider with your new Clearview Replacement Motorcycle Windshield when compared to a non-Recurve windshield.
Mega, Major, Monster.
You will never see us try to sell you on "more is better" when it comes to our Recurve. Our true design concept will hold up for any of our products because we base it on the ergonomic relationship of the rider to the particular bike. Anything more will create distortion and possibly increase turbulence.
That's a ClearView!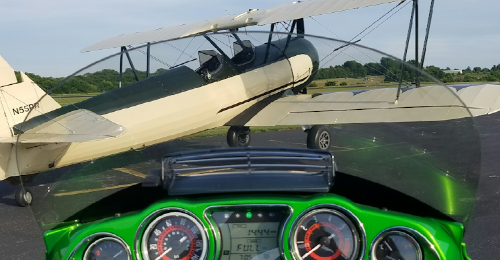 Remember, with a name like ClearView the optics are as easy to look through as possible. We strive to develop the best performing windshields with the least amount of distortion for all Recurved replacement motorcycle windshields. Plus, all of our shields meet or surpass DOT standards. The DOT stamp assures you, the rider, that we use only the highest quality material in compliance with the many safety standards and tests conducted by the Department of Transportation.
From where we sit, (behind a ClearView Shield), more comfort and a ClearView of the road will always be the better choice and the better design. Have more questions? Feel free to contact us at info@clearviewshields.com. Or go ahead and give us a call, toll free, at 1-800-798-6089.