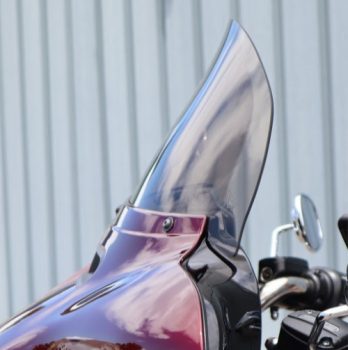 Motorcycle Windshield Recurve
Why A Recurve?
As I sit here thinking back some 30+ years ago (close to the time Tonya and I started Clearview Shields), I remember the design concepts we established that encompassed all of what Clearview Shields was about, creating an enhanced riding environment for the motorcycle rider while providing a Clearview of the road ahead. That meant designing improved windshield shapes that moved air more effectively and then offering several heights of that shape that fit the different body sizes and riding styles of the motorcyclist.
Through our own experience riding and through the many local customers feedback we learned that just a slight shift forward placed you in a much quieter pocket, but holding that position was uncomfortable over long distances. So we thought, why not bring the screen closer to the rider? Good idea but the manufacturers know what the best angle is for redirecting the air and by moving the screen backward we would change that angle, and in that our Recurve design was created.
The recurved top section moved forward to that optimal deflection angle the screen initially came with while moving the whole coverage area closer the rider. Our research also revealed that too much Recurve turned the air stream turbulent around 50mph and above, Collapsing violently behind the rider (for two up riding , in front of the passenger) not to mention adding distracting distortion to the upper section of the screen. Too less of a Recurve While looking over the screen then the air flow would collapse in front of the rider, compromising quiet comfort.
A perfect Balance of Comfort & Coverage with a Clear View
The concept is a proven success helping us fine tune heights for riders so they may look over the screen and nudging the air flow slightly upward to avoid having it dump in their face or turbulently rumble between them and their passenger.
late 2005 we looked at offering it on specific models for Harley Davidson like the Electra Glides both earlier 1995 and older models to the newer 1996 to 2013 models. Back then no one else offered a Recurved Electra glide or Ultra Classic or Road Glide or Road King. Now we offer it on 99% of our product line. If I thought about it, I should have copyrighted the word Recurve to this design. At that time no one else was using that term, at least when talking about motorcycle windshields, and spell check hates it.
Now, the term is more than common place in the aftermarket windshield arena. Many companies are selling the Recurve with an idea that "More is Better". For those of you who like turbulence and distortion, then I guess more is better.