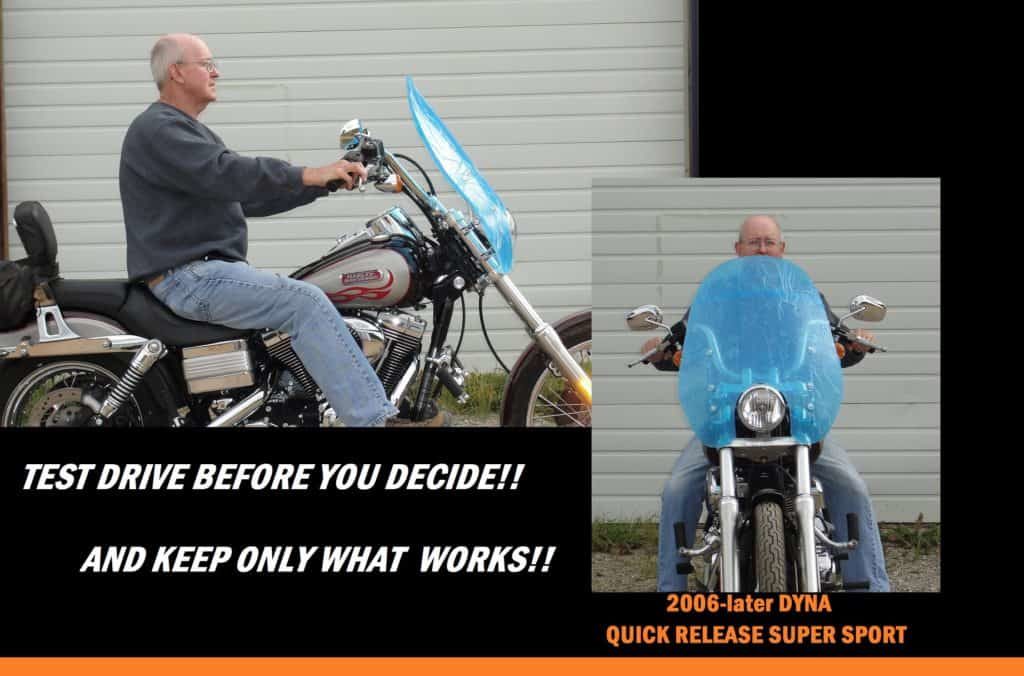 What is Your Windshield Return Policy?
Clearview Shields aims to create motorcycle windshields with an overall package of looks and performance on the road. We only use the highest quality materials and take great pride in our craftsmanship. We offer multiple heights, tints, and our own unique recurve to customize the motorcycle windshield to the rider. We understand that there are many differences physically with each rider the unique way they set up their motorcycle, which is why we offer a return policy designed for ease of exchange for those riders that just can't quite find that perfect fit.
Each Clearview Shields product is packaged with a unique, transparent 4ml film that adheres and conforms to the windshields front and back surfaces. This protects the shield in shipment and also allows the rider to fully install the shield, inspect it for fit, and test drive it for performance (given the rider can comfortably look over the windshield). No portion of the film masking is needed to be removed during this evaluation process.
If upon the completion of the evaluation the rider feels they need to make a change or is not satisfied with the product, the rider may exchange it for a different height or return it for a full refund, minus the shipping and handling charge, as long as the film has not been removed and the shield is like new. The rider has 30 days from the product ship date to decide.
Clearview will not take back any screen that has no protective masking or has had the masking removed then reapplied
In the event that the shield is sent back with any damaged, or partially and/or fully removed film packaging, (excluding holes made for the mounting of the windshield), a restocking fee of 50% will be applied.
No returns accepted after 30 days of the ship date
All shipping costs relating to the return of any exchanged item will be the responsibility of the original purchaser. Transactions made through a reseller or distributor must be exchanged or returned through that reseller or distributor. All custom shields and non-standard shields cannot be returned.
Clearview Shields Warranty
Clearview Shields covers all windshield products against defects in the material or workmanship for 12 months from the date of shipment by the original consumer purchaser. All returns must have a Return Authorization Number. Please call or e-mail us for the R/A number. Clearview Shields acknowledges no other warranties, either expressed or implied.
No matter how you ride, make sure you are riding with a CLEARVIEW. Feel free to contact us with any other questions, comments, or concerns.