---
What Customers Are Saying About Our Harley Davidson Replacement Windshields: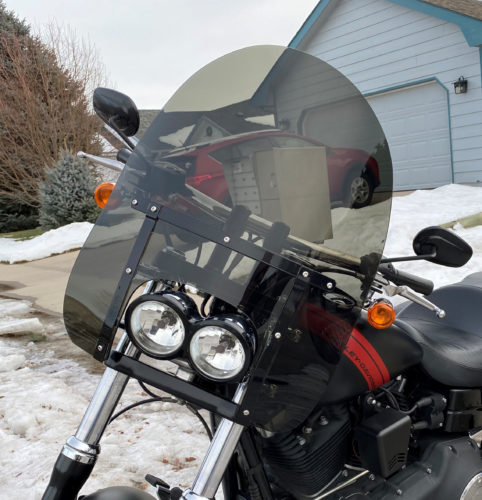 After a bit of a hassle and some more dough for obtaining mounting hardware, I have a windshield. I took the bike out for a ride today (39F and wind blowing). This is a completely different ride (on the great side). I am very pleased.

18.5" GT width Dark Gray Tint

Tim Chiddix
Windsor, CO
Best windshields on the market, recurve makes these windshields excellent, At rating
Veteran friendly!
Recently purchased the 6.5" "Sport" for my wife's '19 Street Glide. Very happy with this purchase. I've owned windshields from two other popular competitors and I believe this one is the best quality. The windshield is not too thick like others that create a gap at each end after installation and there's no ugly manufacturer's emblem stuck on the front of it. The Clearview Shields logo with shield and wings is lightly etched into the surface on one end and actually looks rather nice. What I liked most is the way it was packaged. I've had competitors ship theirs in a bag believe it or not – this one was shipped in a cardboard box with plenty of foam packing material. It was also wrapped nicely with protective film in such a way to allow me to accurately test ride it before accepting. I've had others wrapped in so much film it was impossible to test. The fit and finish is perfect – I will most definitely recommend Clearview Shields over all others.
I have used Clearview Shields for 11 years love the air deflection that the recurve gives. I like looking over my wind screen and the small recurve provides wind deflection without the tall screen
Upon initial inspection the shield is of good quality and contains an installation kit I was not aware came with the shield. Unfortunately, I have not been able to install the windshield as the bike is in storage for the winter. Will update my review in the spring!
I reordered the same shield, which I replaced when the bike was new. No complaints. Just glad I remembered you were in Colorado!
+4
Second windshield I've bought from them. The quality is second to none. 2006 Heritage with 18in recurve in light gray standard width. Im able to see over it and it pushes the air over my wife eliminating her head buffeting.
I sent this E mail to Craig after I used the shield for a few days. I hope he received it. It gives my complete review.

Craig:
All I can say is WOW!! For under 150 bucks, I got an entire new Ultra!! I understand that Harley makes their windshields for people of average height, which is probably about 5'10", but I'm 6 feet and the helmet buffeting was pretty severe.
I immediately began searching the internet for windshields for my 2014 H-D Ultra Limited. Looked at Wind-vest, Slip-Streamer, and National Cycle, whom I have always gone with in the past. Clearview Shields impressed me first because you simply made the "Biggest and Widest". Also your website took great measures to make the user understand the exact measurements and heights of your product, (measuring from the on-off switch, etc.). In addition I was impressed that you are simply a small AMERICAN business that continues to do what all American businesses should do. Focus on something, and make a quality product with outstanding customer service. When I called in, I talked to someone there...not someone in Singapore who is paid to just answer the phone.
To sum it up, I am more than satisfied with your product and especially your customer service for covering my many questions.
It is companies like yours that are what's left of the "Real America".
Keep doing what you're doing. It WORKS!!
Thanks again!!


Blessings,

Scot Collins, M.S. Ed. Psych
Director of Ranch Life
Rodeheaver Boys Ranch
380 Boys Ranch Rd
Palatka, FL 32177
4th windshield I've bought. This one was the best fit yet. Took 20 minutes to switch out brackets. Good ffit.