What is a Rider Profile:
A rider profile is the individual test rider end stage of our design process. To start the creation of a new Motorcycle Windshield we first sign up a local rider to work with. They help us create a good working prototype. Then we take that design and submit it to a larger group of riders with varying needs and riding styles. This approach gives us a dynamic that impacts the development of the design from many angles and allows input from all who are involved.
The test group helps to mold the shape of the new screen in a direction that works well for all 2015 – Present Harley Davidson Road Glide owners while identifying individual needs. The rider profile helps to give you, the customer, an idea of what Screen height and design style will work best for you. You can just match your body height, Pant Inseam, and bike modifications to rider with the exact, or at least close, list of physical and mechanical attributes.
To learn more about our design process using the Rider Profiles, click here.   
Glenn N.
Savannah, GA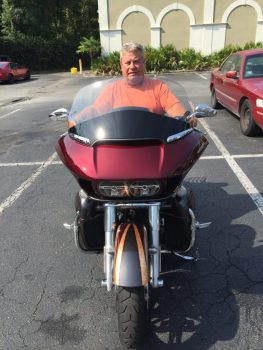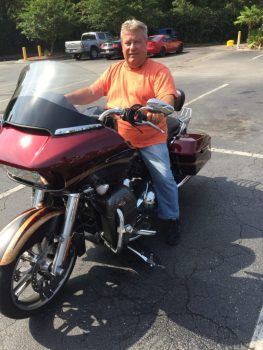 Body Height – 5'7″
Inseam (Pant Length) – 28″
Bike Model – 2015 Road Glide CVO/FLTRUSE
Modifications – Changed to CVO Stock Touring Screen before moving to Clearview 2015 Road Glide Shield
Glenn was looking for improved airflow with a lower height than his Stock CVO windshield. Glenn Started with the Medium height in light gray with the GT side cuts. Glenn moved to a Small Lt Gray with the GT Cut for his final screen.
The rider questionnaire was sent to the rider after the first test drive of the 2015 Road Glide Windshield.
The Final 2015 Road Glide Windshield
Read Glenn's Final Review Below:
"Hi Craig, I was waiting for my new 2016 Road Glide Ultra… love the wind screen, it's now perfect height and I can cruise the highway at 75 to 80mph with practically no wind buffeting my ears. It's the quietest shield I have ever ridden behind on any bike. I think you guys have hit a home run on this one, along with the design improvements that Harley also made to their new "Rushmore" fairing refinements! It's a pleasure to ride this motorcycle with the new Clearview Shield. I think I'm ready for another cross country ride!"

Glenn N,  2016 Road Glide Ultra.. Cosmic Blue Pearl
Thank you for participating Glenn! We know you will enjoy a ClearView for many rides to come with your new 2015 Road Glide Windshield!