Craig...Got my windshield today...Took the test ride, and !'m finishing the install as we speak...Everything ! could have hoped for...! don't need earplugs and now ! can enjoy my Rineharts... Exellent engineering and testing...Thank you very much...!'ll be putting a good word in for you every chance ! get...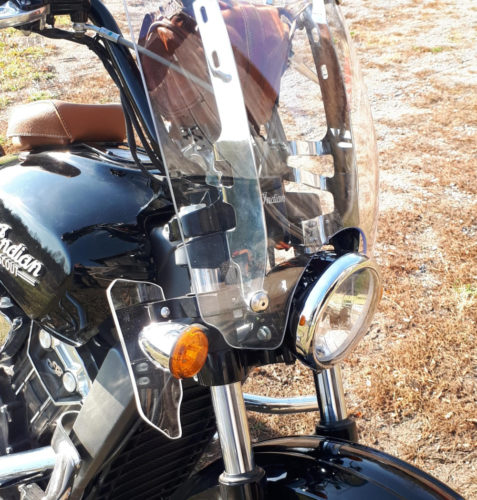 I installed and road tested the lowers today, and submitted a review to your website. The quality of the lowers is excellent.....they look good and are a perfect fit. I am very pleased with their performance. It was very windy today, perfect to test them out. Helmet buffeting was pretty much eliminated....no more vibration of visor, and a quieter ride now behind my stock windshield. I rode at speed into a headwind, with tailwinds, and with strong side winds. In all cases, the front end of the bike felt more stable, and seemed in better contact with the road. As you know the front end of the scout can feel like it's really being moved around in heavy wind . With the fork lowers, I felt more relaxed.....and less effort was necessary to keep on track. A good looking improvement to both buffeting and stability. Thanks again for the pictures.....they clarified positioning perfectly.
Best regards, Susan.
I just installed the extra large windshield with the vent. It works great!! No helmet buffeting with the vent open 1 click!! This is the windshield I can go out to the badlands with!! No optical distortion at all. I'm very happy.
Sincerely, D. Reilly
You guys are the best, I talked to a real person and received my wind screen as promised.
It fit great, no adjusting and it looks great as well. Thanks to your staff again for having this impossible to find windshield.
Bob s.
Received the windshield yesterday.
WOW! Absolutely love it!!
Extremely noticeable difference on the interstate with wind and listening to my music! My son has your shield as well. We are extremely happy with your product and will be spreading "the word"!!
I ride a 2020 Harley RGS and my son has a 2019 Harley SGS. I have tried the Klock Werks and the Long Ride Shield.....no comparison! The thickness, design shape and clarity are far superior!
Keep up the great work!
Cheers,
Jim
I received my new windshield today. It's beautiful and fits perfectly. I posted a review on Google & happy to post anywhere you think customers will find you.

Thanks and Great Job!

Don
Thank you for a fantastic windshield. Looks, fits and works perfectly. Have a nice day. George.

12.5" CLEAR W/RECURVE.
Got my windshield today...
I LOVE IT!!
Thanks,
B Janoske
Looks awesome, easy install, fits perfect, Thank you.
J. Salvati.
The screen couldn't have worked out better as far as I'm concerned . Even in 6 hours of rain it was great !

Thanks

Doug
I received the wind shield and installed it without incident. The clarity is fantastic. The wind protection is noticeably better with a nice air envelope for the rider. Very happy.
Thanks, Patrick
Just went for a test ride, MAJOR improvement. I heard about your products on the Harley Forum. Some mentioned that "ugly"'vent. Not true. Blends right in, and I can still use my windshield bag. Perfect height, I can see right over your shield. Buffeting all but gone, and a tweak of the vent allows adjustment for all conditions. SO glad I swapped, thanks again!

Todd
Melissa,TX
My new Clearview shield arrived Wednesday and I had it mounted later that afternoon. Just after I got my 2019 Scout I decided to go the batwing fairing route and $600.00 later had something that almost worked. Aerodynamics were that of a barn door once I had all the wind deflectors that go with it. After riding my brothers Scout with the screen and lowers, I decided to go the same way. The Scout is a simple and fun bike and with your help it's back to that. After a very pleasant two hour ride on Michigan backroads I couldn't believe what a great ride it was. Gone was the helmet buffeting and most of the wind noise. I will look forward to getting out and about on my Scout even more. Thanks Clearview for a great product.
Just a note about how happy I am with my new Valkyrie Cut windshield on my Honda ACE Touring model .
Friends and I rode from central Illinois to the Black Hills in mid September. I was wary of buffeting but did not experience any that I could tell . With 6 of 8 hours riding the first day I also didn't notice any swirling of thr rain as I'd become used to with the stock windshield .
Even though Craig had told me there was an imperfection in it I've never noticed it .
I couldn't have made a better choice !

Thanks

Doug
Thanks for the quick service, the shield arrived packed great as usual, fit on the bike perfect, really pleased with it. Thanks again
G Staring
Just wanted to drop a note to thank you for your shield. I couldn't be happier, and even though Craig said that there was an imperfectiont in it, I certainly haven't been able to find it. It's a perfect size, so your instructions are spot on. When I put it on, I thought it may be too short (15") but I took it out on the highway at 80 MPH, and wearing my normal aviator glasses, my eyes were dry and the wind was not bothering me at all. I get all the benefits of being in the wind without the direct face hit that I was getting before.
You get 10 stars from me. And you may post this in your reviews section.
J Hache
Successful installation today. Thanks for the advice. Everything lined up perfectly once I took the hardware off my old shield. Great quality product. Thanks again.
The windshield for the sidecar looks great and was a perfect fit. Thanks Sonny