Love my Clearview.
Corey Bacon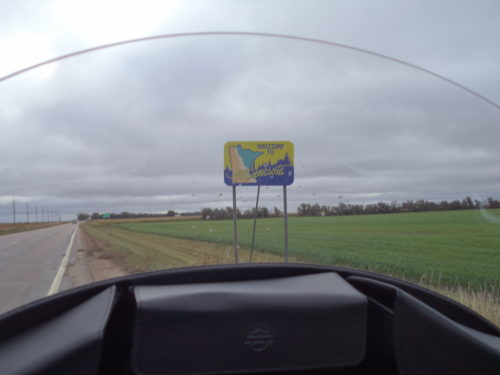 Got my new Clearview X-Large Clear windshield mounted on my 2020 TriGlide and wanted to share a picture. Not the best day for pics, but it's also kind of late in the season here in Minnesota.
"Hey Craig, it's Luke. I just got home I just want to give you feedback from my ride back. I'll pushed it up to 100 MPH and air dynamics is awesome and I have no movement whatsoever very stable. Immaculate job much appreciated. I'm telling you that the ride was awesome. I completely appreciate all that your team has done for me. Thanks so much.
I've had a Clearview Shield before so I knew I could count on you for a quality product. The difference between the stock screen and my Clearview is amazing. Instead of getting beat up and HAVING to wear goggles every time I ride, I now cruise around comfortably in sunglasses @ 70mph.

Here are a few pics of my 2006 HD Road Glide with the new clearview windshield. It is 3 inchs taller than stock. I rode it for the first time today in 40 degree weather. Very little air got past the shield, it will be very nice when it gets warmer. I was able to turn down the stero and listen to it without all the wind noise in my ears. I can hear my Screaming Eagle pipes much better too.

Thought I'd send you a few pics of my Road Glide with the 2" over shield. It fixed all my problems with the wind and I think it looks great on the bike, it also doesn't shake like the stocker did! I also sent a few pics with the new chrome trim that Harley just came out with. I know a lot of riders were wondering if it would fit, it fits your shield better that it does the factory one. It also comes all the way back just like your shield if I didn't know

Thanks for the great shield. It's the best money I've spent on the bike so far. Here are a few pics of the shield on my bike. Hope you can use them for the new site. Thanks!

Here are some pictures of my 06 RoadGlide with the clearview lower replacement windshield. My line of sight is now about 2" above the shield instead of on the edge of the stocker. It still shields the wind and vision is much improved. Great product!

One thing I didn't read in any of the brochures is the fact that the stereo sound is enhanced quite noticeably.

Light Grey Medium with Recurve

Clear XXL w/Adjustable vent

HAR-RG4013 light grey tint

HAR-RG40L GT Large with Light Grey tint

Just wanted to take a second to thank you for your product. Like many Road Glide owners I went through the trial and error process of finding a windshield that both looks and performs better than the stock windshield.

Let me add one more to your long list. Just installed a large, tinted, with vent on an '06 FLTRi, rode only 7 miles an am shocked by the improvement. Why did it take me so long to find you?

I'm 48 years old and as with many others I have my fair share of complaints regarding the quality of products these days. When I received my first of two shields I was so very impressed with the quality that I purchased a second one. The shields are far superior to the quality of the shield that came stock on my new Harley.

I received it as promised on Thursday just in time for a 900 mile trip we made over the weekend.

I'm sitting in a motel room in Albuquerque after 3 days and a thousand or so miles on the road with my new Clearview windshield. I'm so pleased with the difference over the stock shield that I didn't want to wait until I got home to tell you. Thanks again for your help in getting it to me in time for my trip. It has made all the difference in the world.