Street Glide Windshield
The Harley-Davidson FLHX model is, without a doubt, one of the most recognizable motorcycles on the street today. That's partly due to its iconic batwing fairing, and partly due to its ubiquity, with the result being that many first-time motorcycle buyers immediately gravitate toward it on the showroom floor. If you're one of those first-time buyers, and have purchased or are preparing to purchase a new or used Street Glide (congratulations, by the way), then one thing you may not have learned about motorcycles yet, and H-D in particular, is the power of customization.
Unlock your Bike Potential
You might even understandably ask: I just spent $25,000 on a brand new bike…why would I want to buy a custom motorcycle windshield? Or a custom anything, for that matter?
If you've ever bought a really luxurious dress or suit, you already know the answer to this. Yes, it's possible to get lucky and find one that fits you perfectly off the rack, but most often, all the benefits of owning something so nice won't be unlocked until you customize it to your individual needs.
Customizing Your Street Glide
A motorcycle is really no different. Every rider has a unique combination of height, weight, shape, posture, and overall riding preferences and tendencies. What do those things have to do with a windshield? A lot. Unlike car windshields, motorcycle windshields aren't one-size-fits-all, and factors like a rider's size and style determine how effective the windshield will be. It's not an exaggeration to say that a well-chosen custom windshield will make a huge difference in your (and your passenger's) level of comfort and enjoyment on the bike.
Maybe that convinced you that you need a custom Street Glide windshield, or maybe you were already convinced. Either way, there's still more crucial information you need: how do you know what to choose?
Factors to consider when measuring for windshield height
Seat
When a Street Glide gets a new owner, the seat is typically one of the first things to be swapped out. Sometimes it's about looks and personality, other times it's about comfort and reach, but most often, it's a combination of all the above. The vital thing is that you make sure you're happy with the seat before making any changes to your windshield. That's because there's a geometric relationship between the two, and any change to one will affect how well the other suits you.
One of the most important aspects of windshield height is making sure that the top edge doesn't cut into your line of sight in a distracting or limiting way. Since your seat determines how high up you'll be above the bike, you absolutely need to get that choice locked in before trying to measure for a bike windshield.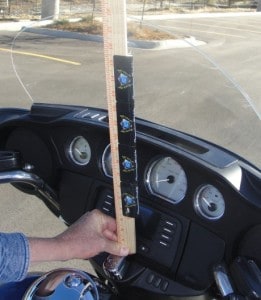 Handlebars
Along with the seat, your handlebars are the most important contact point between you and your bike, and there are endless configurations for them that will affect your ride in different ways. And again, you might want to make changes to your bars for aesthetic reasons, or you might just want added comfort. Either way, you'll always want to get your preferences in the handlebar department sorted out prior to buying a new windshield. Changing the style, shape, or position of the bars will also adjust your seated position backwards or forwards on the bike, which, in turn, can change your view through the windshield.
Passengers
Some riders know prior to purchasing a new bike that they plan on riding two-up very frequently, or even a majority of the time. If that is the case for you, then make sure that when you go to measure for your windshield, that passenger (whichever one you'll ride with most often) is with you on the bike, or that you otherwise compensate for their weight in some way. Why? The passenger's weight will compress the suspension of the motorcycle, and depending on how much of a height difference that makes, it could bring the top edge of the windshield directly into the driver's eyeline.
In Conclusion
Once you've made these considerations, actually measuring for your windshield is extremely simple. In fact, we've written a foolproof guide for doing it. And yes, you can take all of the above and apply it to the decision-making process for a custom windshield for almost any type of motorcycle, not just a Street Glide. Unlike a number of other bike manufacturers on the market, though, Harley-Davidson allows for a huge variety of customization to maximize comfort and performance on the road, and obviously that includes windshields. Our job is to make it easy for you to take advantage. If you need a windshield for your Street Glide give Clearview Windshields a call. We'll be happy to help you select a shield that is right for you and your individual riding style.