Nylon Torque sleeves included.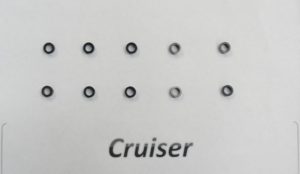 Clearview Shields has been Handcrafting Windshields for Harley-Davidson Motorcycles such as the Dyna Defender FXDP Shield in the USA for Over 35 Years.
Top Rated by Riders Around the World in Performance, Quality, Fit and Finish
Premium High Impact Acrylic Blend Material Exceeds Industry & DOT Standards
UV Inhibitors Extend Shield Life & Provide Protection for the Dash and Accessories behind the windscreen.
.177 Thick Material is more Rigid than the Stock Shield
Ready to Mount to your OEM Harley Davidson FXDXT T-Sport Fairing (This will be the Screen only. You must have the OEM T-Sport Fairing body)
Shipped with a Protective Film that allows Installation and Testing
Can be Polished, Buffed, and is Safe to use Rain-X Original Clear Formula
Harley-Davidson Dyna Defender FXDP Motorcycle Windshield by Clearview Shields
We engineer our Harley-Davidson Dyna Defender Windshields (FXDP) and all our Motorcycle Windscreens to exceed your expectations through rigorous testing. During the final stages of product development, we send out samples of our designs to different riders for review and feedback to refine the finished product. These individuals are asked for their body height, inseam, and any existing Bike mods/modifications. This information gives us valuable data when determining best windshield size for each individual rider. This data is available to you to use for comparison for your own body size and riding needs. Click the link below for our focus group rider profiles to help you pick the best height.