Introduction
As the winter chill begins to settle in, motorcycle enthusiasts across the United States find themselves yearning for the freedom of the open road. Fortunately, there are plenty of destinations where you can escape the cold and enjoy some warm winter riding. In this article, we'll explore some of the best warmer places to ride a motorcycle in the United States, allowing you to extend your riding season and savor the thrill of the journey. Additionally, we'll discuss the role of a high-quality motorcycle windshield in enhancing your warm-weather riding experience, highlighting the offerings of Clearview Shields, a leading motorcycle windshield manufacturer based in Fort Collins, Colorado.
Southern California: A Biker's Paradise
When it comes to warm winter riding destinations in the United States, Southern California is undoubtedly one of the top choices for motorcycle enthusiasts. With its mild temperatures, beautiful landscapes, and an abundance of scenic routes, this region offers a biker's paradise all year round.
Pacific Coast Highway (California State Route 1)
For riders looking for a coastal experience with breathtaking views, California's Pacific Coast Highway (PCH), also known as California State Route 1, is a must-visit. Stretching along the Pacific Ocean, PCH offers endless twists and turns that take you through rugged cliffs, sandy beaches, and charming seaside towns.
A high-quality motorcycle windshield can significantly enhance your Pacific Coast Highway journey by providing excellent wind protection, reducing turbulence, and allowing you to enjoy the stunning coastal scenery without distractions. Clearview Shields offers a range of windshields designed to fit various motorcycle makes and models, ensuring you can find the perfect windshield for your ride.
Joshua Tree National Park
If you're seeking a unique desert experience with stunning rock formations and surreal landscapes, Joshua Tree National Park in Southern California is a great option. The park's extensive network of paved and unpaved roads offers ample opportunities for exploration.
While riding through Joshua Tree's desert terrain, a Clearview motorcycle windshield can keep you comfortable and protect you from dust and debris, maintaining clear visibility. You can customize your windshield to suit your preferences, whether you need added height or a specific tint to reduce glare from the desert sun.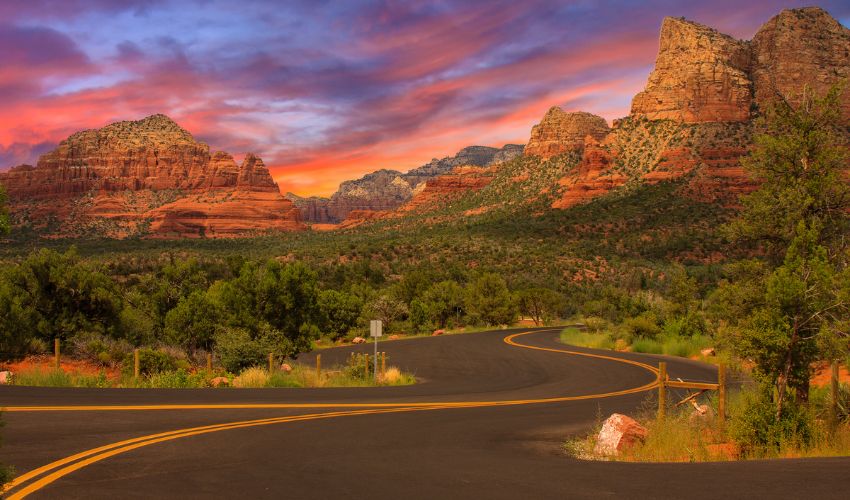 Arizona: A Desert Oasis for Motorcycle Riders
Arizona is another destination that beckons motorcyclists with its warm winters and incredible scenery. The state is known for its diverse landscapes, ranging from desert valleys to high plateaus, and offers a variety of routes to explore.
As an iconic and historic route, Arizona's portion of Route 66 is a popular choice for riders looking to traverse this legendary highway. The route takes you through the Painted Desert and Petrified Forest National Park, offering a ride through time as you follow the path of early American travelers.
While embarking on this journey, a Clearview motorcycle windshield can help protect you from dust and gravel often found on desert roads. Their windshields are designed to minimize wind noise and provide you with a clear view of the historic landscapes along Route 66.
Sedona, Arizona, is renowned for its stunning red rock formations, making it a picturesque destination for motorcycle enthusiasts. The winding roads that lead through Sedona's rock formations and surrounding canyons provide an exhilarating riding experience.
With a Clearview motorcycle windshield, you can ride through Sedona while enjoying the natural beauty without worrying about wind and debris. Their windshields are known for their durability and clarity, allowing you to fully immerse yourself in the stunning scenery.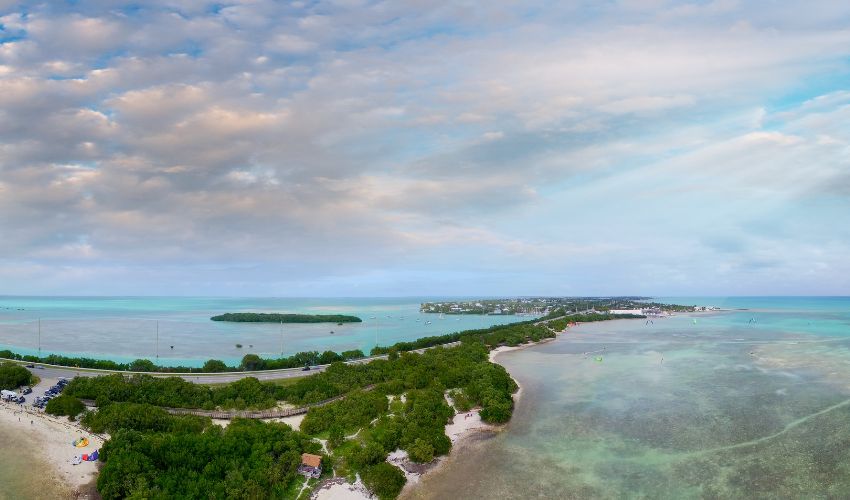 Florida: Sunshine State Rides
Florida, often referred to as the "Sunshine State," boasts warm and pleasant temperatures during the winter months. It offers a wide range of scenic routes and coastal rides for motorcyclists to explore.
Florida Keys Overseas Highway
The Florida Keys Overseas Highway, or U.S. Route 1, is a renowned road trip destination that stretches from Miami to Key West. Riding along this highway, you'll be surrounded by crystal-clear waters, tropical landscapes, and breathtaking bridges that connect the islands.
To make the most of your journey through the Florida Keys, a Clearview motorcycle windshield can provide you with a clear view of the picturesque surroundings and protect you from any ocean spray or wind gusts. Clearview Shields offers different tints for their windshields, allowing you to choose one that suits the Florida sunshine.
For those looking to explore Florida's unique Everglades ecosystem, the Tamiami Trail (U.S. Route 41) is an excellent choice. This scenic road takes you from Miami to the Gulf Coast, allowing you to witness the beauty of the Everglades and Big Cypress National Preserve.
A quality motorcycle windshield, such as those offered by Clearview Shields, ensures you can fully enjoy the lush landscapes and wildlife without distractions. Their windshields are designed for optimal wind protection, allowing you to experience the magic of the Florida Everglades in comfort.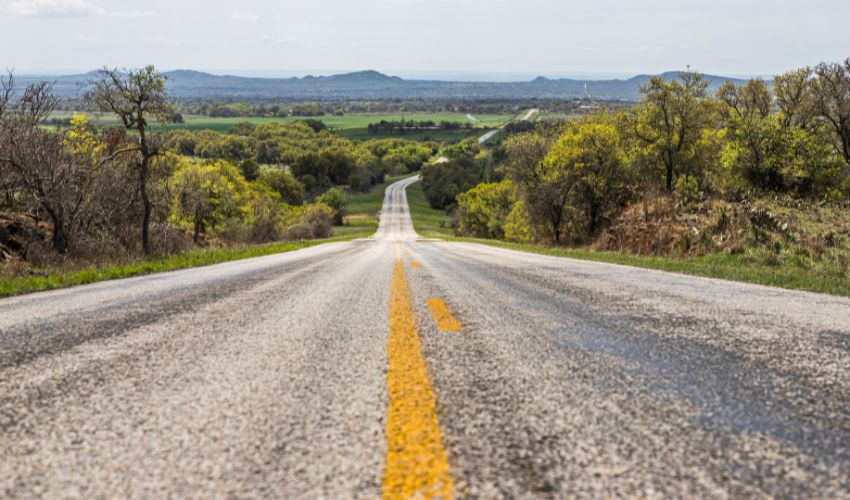 Texas: Lone Star State Riding
Texas, with its vast and diverse landscapes, offers an array of routes and destinations for motorcycle enthusiasts. With mild winter temperatures, the state is an inviting place for year-round riding.
Hill Country and the Three Sisters
The Texas Hill Country, known for its rolling hills and scenic byways, provides a fantastic backdrop for motorcycle adventures. The "Three Sisters" routes—Ranch Road 335, Ranch Road 336, and Ranch Road 337—offer challenging twists and turns, as well as stunning views of the countryside.
A Clearview motorcycle windshield is an excellent addition to your Texas Hill Country ride, helping you maintain clarity and visibility even during the most exhilarating twists and turns. Clearview Shields' customizable windshields ensure that you have the ideal windshield height for your ride.
Big Bend National Park, located in southwestern Texas, offers a remote and rugged riding experience. The park features vast canyons, high desert, and the Rio Grande River, making it a unique destination for adventurous motorcyclists.
During your ride through Big Bend, a Clearview motorcycle windshield can shield you from the desert elements and provide protection against dust and gravel. With a Clearview windshield, you can fully immerse yourself in the beauty of this remote and untouched wilderness.
The Role of Clearview Shields in Warm-Weather Riding
As you embark on your warm-weather motorcycle adventures, it's essential to ensure that you have the right equipment to enhance your comfort, safety, and overall riding experience. A high-quality motorcycle windshield is a key component in this regard, and Clearview Shields, based in Fort Collins, Colorado, offers a range of exceptional windshields and windscreens tailored to meet the unique needs of riders.
One of the primary benefits of a motorcycle windshield is wind protection. While warm-weather riding is enjoyable, it can still involve wind gusts that can affect your comfort and concentration. Clearview Shields' windshields are designed to minimize turbulence and reduce wind noise, allowing you to enjoy the ride without being buffeted by the wind.
Clearview Shields takes pride in its commitment to customization. Their windshields come in various shapes, sizes, and tints, giving you the freedom to choose the windshield that suits your bike and riding style. Whether you prefer a taller windshield for maximum wind protection or a shorter one for a sportier look, Clearview Shields has options to meet your specific preferences. The ability to tailor your windshield to your liking ensures a comfortable and personalized riding experience.
Clear visibility is crucial for a safe and enjoyable ride. A dirty or scratched windshield can hinder your ability to see the road clearly. Clearview Shields pays meticulous attention to the materials and craftsmanship of their windshields to provide you with unparalleled clarity. Even on dusty desert roads or coastal highways where sea spray might be a concern, their windshields maintain clear visibility, ensuring your safety and peace of mind.
Durability and Protection
When you venture into varying terrains and conditions, your motorcycle windshield needs to withstand the challenges. Clearview Shields' windshields are crafted from durable materials that resist scratches and abrasions. This resilience ensures that your windshield remains in top condition even after long journeys through rough environments, such as desert trails or coastal routes.
Clearview Shields ensures that their windshields are easy to install on your motorcycle, providing convenience for riders. The straightforward installation process means less time spent in the garage and more time on the open road, enjoying the warmth of your chosen destination.
Conclusion
As winter approaches, motorcycle enthusiasts can still enjoy the thrill of the open road by exploring some of the best warmer places to ride in the United States. The vast and diverse landscapes of Southern California, Arizona, Florida, Texas, and other regions offer fantastic opportunities for riders to escape the cold and experience the beauty of nature year-round.
To enhance your warm-weather riding experience, consider investing in a high-quality motorcycle windshield. Clearview Shields, based in Fort Collins, Colorado, offers a range of windshields and windscreens designed to meet the unique needs of riders. Whether you're traveling along the Pacific Coast Highway, conquering the curves of the Texas Hill Country, or exploring the deserts of Arizona, a Clearview windshield can provide wind protection, clarity, and durability to make your journey more enjoyable.
So, as you plan your next motorcycle adventure, don't let the winter weather deter you from hitting the road. Explore the warmer destinations across the United States, enjoy the sunshine, and take advantage of a Clearview motorcycle windshield to make your ride comfortable, safe, and unforgettable. The open road is calling, and there's no better time to answer it than now. Safe travels and enjoy the ride!