I was a huge fan of Chris Farley. He invented some of the best characters on NBC's Saturday Night Live. Who can forget Matt Foley, Chris Farley's version of a motivational speaker? Or maybe you remember Chris Farley's classic movie Tommy Boy. In one scene, he makes a sales pitch using a pretty unorthodox sales method. However, one of my personal favorites has to be The Chris Farley Show skit from SNL, where Farley leaves his high energy standards to play a nervous and uncomfortable talk show host. In my opinion, all his characters were pretty great.
What most of us might not know is that Chris Farley was a Harley-Davidson owner. He owned a 1997 Harley XLH 1200. According to Tom Farley, Chris' brother, the story is that Chris never really rode the bike because "it terrified him". Chris purchased the bike because somebody convinced him that "they are cool and made in Wisconsin."
I'm sure we can all agree that Harleys are pretty cool. So if you're looking for a bit of Chris Farley memorabilia, and you dig motorcycles, you might be interested to know that his motorcycle is Sold for auction for $16640. Tom Farley stated that when Chris died they donated the bike to Planet Hollywood. The description of the bike notes that, "the ignition key is missing" but Tom says he has the key.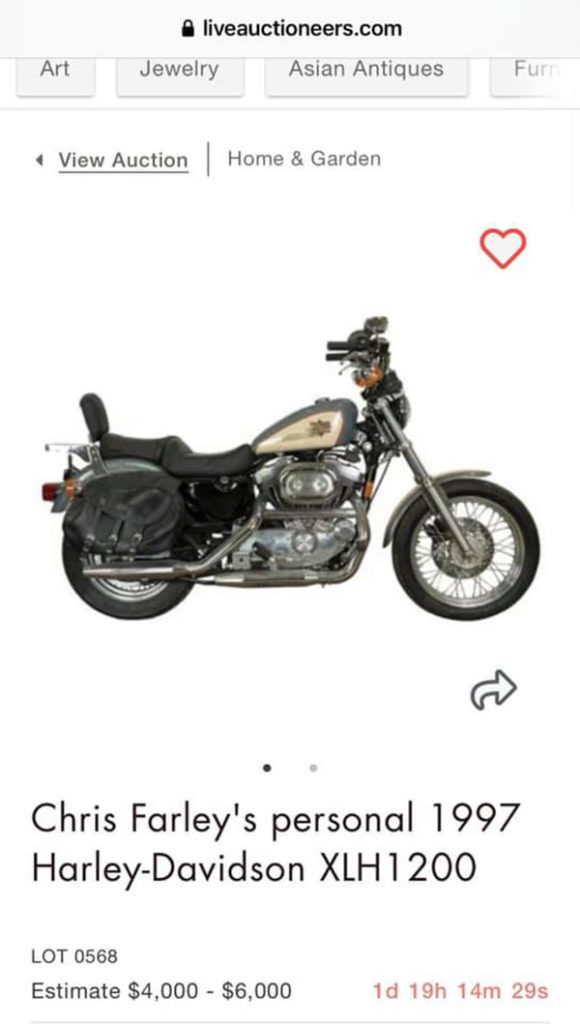 Chris Farley's personal 1997 Harley-Davidson XLH1200 Sportster 1200 motorcycle. Gray & creme Harley 1200 Sportster (VIN# 1HD1CAP19VY21301X) formerly belonging to comedy great Chris Farley. Features 5-speed transmission, belt drive, chromed shotgun exhaust and black leather saddlebags. Measures 91 long x 54 in. high. Exhibits light use and in very fine condition. Ignition key is missing. This item is located in the Eastern United States and special shipping arrangements will apply. Provenance: Acquired from the family of Chris Farley. $4,000 – $6,000
Many of us miss Chris Farley and his unique blend of comedic genius. We can all appreciate his willingness to make us smile, so thanks for the laughs Chris!
UPDATE: The auction has ended and Chris Farley's good friend David Spade won the auction. Spade then sold the bike to another friend of SNL, Tim Meadows. Way to keep the Harley in the circle of friends gentlemen!
-Clearview Shields is a manufacturer of aftermarket motorcycle windshields.