What is a Rider Profile:
A rider profile is the individual test rider end stage of our design process. To start the creation of a new Motorcycle Windshield we first sign up a local rider to work with. They help us create a good working prototype. Then we take that design and submit it to a larger group of riders with varying needs and riding styles. This approach gives us a dynamic that impacts the development of the design from many angles and allows input from all who are involved.
The test group helps to mold the shape of the new screen in a direction that works well for all 2015 – Present Harley Davidson Road Glide owners while identifying individual needs. The rider profile helps to give you, the customer, an idea of what Screen height and design style will work best for you. You can just match your body height, Pant Inseam, and bike modifications to rider with the exact, or at least close, list of physical and mechanical attributes.
Mary M, Granbury, TX
Body Height – 5'
Inseam (Pant Length) – 32″
Bike Model – FLTRX/Special
Modifications – None
Mary Rides Solo and was looking for improved air flow for long distance rides. Her husband has his own 2015 Road Glide so they enjoy Motorcycle trips together on separate bikes. Mary Started with the Medium height in light gray with the Scalloped side cut but moved down to the Small in a Dark Gray with same 2015 Road Glide Scalloped cut design.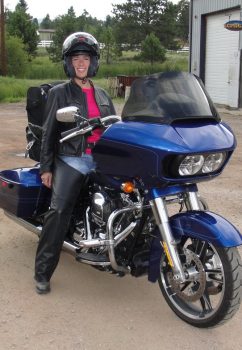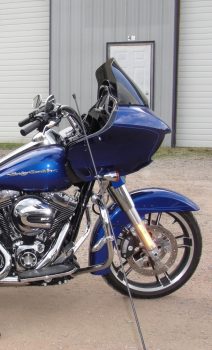 First Review
My husband mounted the windshield for me, but did not have any negative comments on its placement or attachment.  He has attached 5 other of your windshields, so I am sure I would have heard if this one was any different, especially in a 'not good' way.
Fit and finish met expectations
I ordered Light Gray in case I did not like the height or color of your darker shield.  The 13″ is fine. I have always looked over my shields.  I am tall enough that the top of the shield is not close to my horizon.  ~1/2″ shorter wouldn't hurt my feelings at all.
The wind was fine for me as driver. There was no swirling or catching of my helmet leading to head/neck pain.  I never carry a passenger, I cannot help you there.
I have not had a chance to ride in the rain, but can only assume because of its height that it will be far better than the stock shorty!!Thanks,
Mary M
The Final 2015 Road Glide WindshieldRead her final review below:
'The shorter shield worked much better. We rode the mountains for days and I always looked over it, which is what I prefer. Large bugs, such as grasshoppers and dragonflies still hit the top of my face shield, but since I always ride in a full face helmet, I don't mind. I also like the darker tint for aesthetics. Since the tint is so dark, I don't notice the mask. The wind was just becoming noticeable at the top of my helmet but didn't affect my head, neck or posture. The lateral wind was felt in my bicep area and was never a problem."
Thanks for your participation Mary! We know you will enjoy your ClearView for many rides to come!