Welcome to FAQ Fridays. Our weekly blog designed to answer your everyday questions regarding everything about windshields and how to order them. Review our latest post! Our Goal is to help our riders as much as we can with any questions they may have.
Why Does Clearview Hand Polish the Edges?
Motorcycle windshield edges are polished for both performance and looks.
What type of
polishing does Clearview Shields use?
Clearview Shields uses "Cool Fab" hand polishing. This method of fabrication cuts and finishes the windshield with minimal heat.
Why Cool Fabrication?
"Cool Fab" produces a quality product with finished edges that will not craze or crack over time.
Why not use laser, flame or chemical polishing?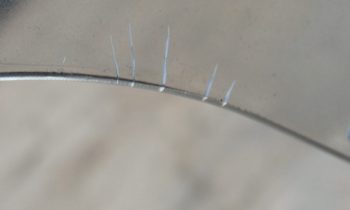 Laser cutting, and Flame polishing of edges will produce a super Glossy look, but zap the moisture from the material that gives it its strength. Chemical Hand Polish will attack the plastic at an even faster rate. ultimately the edge crazing result is same for any of these procedures. Throw in the suns harsh UV rays and the vibration from the running motorcycle and an early windshield replacement can be expected.
We strive to manufacture high quality replacement Motorcycle windshields that will stand the test of time and mother nature.
No matter how you customize your windshield, make sure you are riding with a ClearView. Feel free to
contact us
with any other questions, comments, or concerns. Thank you, Elizabeth Stenger, Social Media Coordinator Clearview Shields