Just a note about how happy I am with my new Valkyrie Cut windshield on my Honda ACE Touring model .
Friends and I rode from central Illinois to the Black Hills in mid September. I was wary of buffeting but did not experience any that I could tell . With 6 of 8 hours riding the first day I also didn't notice any swirling of thr rain as I'd become used to with the stock windshield .
Even though Craig had told me there was an imperfection in it I've never noticed it .
I couldn't have made a better choice !

Thanks

Doug
Thanks for the quick service, the shield arrived packed great as usual, fit on the bike perfect, really pleased with it. Thanks again
G Staring
Just wanted to drop a note to thank you for your shield. I couldn't be happier, and even though Craig said that there was an imperfectiont in it, I certainly haven't been able to find it. It's a perfect size, so your instructions are spot on. When I put it on, I thought it may be too short (15") but I took it out on the highway at 80 MPH, and wearing my normal aviator glasses, my eyes were dry and the wind was not bothering me at all. I get all the benefits of being in the wind without the direct face hit that I was getting before.
You get 10 stars from me. And you may post this in your reviews section.
J Hache
Successful installation today. Thanks for the advice. Everything lined up perfectly once I took the hardware off my old shield. Great quality product. Thanks again.
The windshield for the sidecar looks great and was a perfect fit. Thanks Sonny
Just wanted to drop a note to thank you for your shield. I couldn't be happier, and even though Craig said that there was an imperfection in it, I certainly haven't been able to find it. It's a perfect size, so your instructions are spot on. When I put it on, I thought it may be too short (15") but I took it out on the highway at 80 MPH, and wearing my normal aviator glasses, my eyes were dry and the wind was not bothering me at all. I get all the benefits of being in the wind without the direct face hit that I was getting before.
You get 10 stars from me. And you may post this in your reviews section.
J Hache
Morning Craig

Just to let you know I did receive my windsheild and it was perfect as usual. This is my 3rd windsheild from your company. Here are 2 of your products on my 87 FXRT and 12 FLHTK. My other bike 91 as the same height as the 12. Ok take care and thanks for a great product. 100% satisfied customer.
M Allison
It was fantastic. Fit perfectly on my brackets and the protection provided is excellent. Very happy with your product.
Great product, great fit and well priced!
Took a little longer to get up here in Canada but considering our messed up world right now, I'm not complaing!
Very well made and excellent packing very happy for this experience.
Excellent fit and awesome product. They even took the extra time to ensure it would be shipped before an upcoming month-long tour from phoenix to Iowa, ND, Sturgis, Montana, Colorado and home. Outstanding service and excellent product. I will definitely be ordering again from this vendor.
Very pleased! Perfect fit, clarity is exceptional! Highly recommend Clearview Shields. Will purchase again. ☆☆☆☆☆
Changing out my stock windshield on my Ultra Limited to the Clearview has been an absolute game changer for my wife's (and by extention mine) riding enjoyment. This product works and looks as advertised and I highly recommend it.
I ordered the shield in March and it was ready in the time they said it would be but since I'm in Canada and the border closed i didn't manage to get it here until July. It was packaged very well and fit on my bike without any problem. For the most part it looks good on the bike and works well, BUT, I ordered it with the pressure relief holes because it seemed like that was recommended by the manufacturer. IF there is a crosswind, it seems that I get a whistling sound from those holes. My bike has an adjustable height shield and at a certain range of the motion it reflects a loud noise from the road or something right at me. so I have to keep it above or below that spot.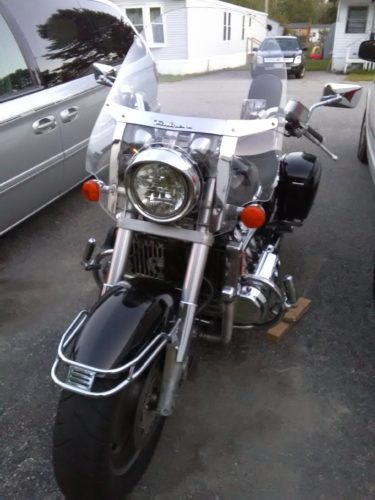 Very happy!
Fits perfect. Great quality and workmanship....I was even impressed with the packing materials!
A great windshield a a great price!
I LOVE LOVE my new XXLarge Road Glide Shield...Exactly what I was looking for! Thanks Clearview for making me exactly what I wanted. Not what other people want but what I wanted!
This product was awesome. I replaced the original after an incident where I had to lay the bike down. This replacement took me about an hour to swap out and looks as good as the original you would never know it was a replacement. I have told all of my friends with bikes if they ever need a windshield to contact you. Above and beyond impressed with the quality and styling of this product.
Just wanted to let you know the 4.5 inch windshield you had made for me for my HD ultra worked out perfect, the height is just right and it deflects most of the wind. Just what I needed.

Thanks for your help on this.

Barry
I love this windshield. After researching many different products, comparing competitors and reading reviews from from other riders, I am happy that I chose Clearview.
As soon as I placed my order, they contacted me to advise of a short delay in manufacturing due to COVID. I contacted them twice (nothing serious) for general questions and they replied an answer to me within a few hours. Definitely provided comfort and gave that small business feel where every customer matters. I would recommend them to anyone who was in the market for a new windshield.
Very nice product! Perfect fit and finish and looks great on my Voyager!
slow on the e-mail and Facebook response but the product was spot on......Perfect fit. After I put it on I had to keep looking to see if it was there it was so clear. I guess after 20 years with the same windshield, I can actually see the road.......Thank You, it was easy to replace......worth every cent. Even the people on Trike-Talk said to go through you guys........glad I did.......will have to send picture later.....
So far I'm really liking it. Provides same protection or maybe more than stock. Looks better than stock shield too. Don't get one without the vent, it's a must have.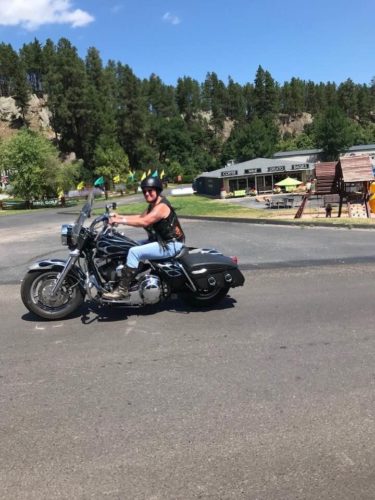 My wife loves her Clearview Shield. The vent option was a added bonus.
The folks at Clearview went above and beyond in order for her to get the shield delivered before we went to the Sturgis Rally.
I will def recommend to my friends.
Sincerely,
Jim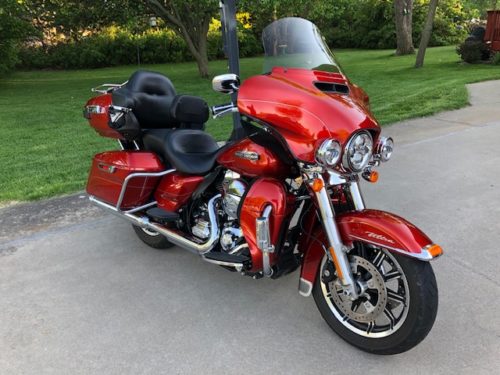 Got the windshield and installed. Took wife for a ride and windshield greatly reduced the air "lift" she was experiencing with stock HD. Windshield also looks good on bike!
Hope you all are staying healthy!

Thanks Brian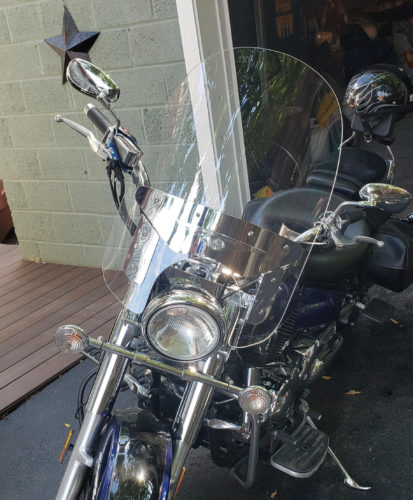 Hey Clearview just wanted to let you know that I installed my new shield on Sunday totally awesome product looking for some tips one the best way to keep it clean and scratch free thank you very much

A Sweet
Hi,

I just received the shield I ordered for my 2019 Ultra Limited. While a month seemed forever to receive it, it was definitely worth the wait. The fit and finish is flawless and the included rubber edge guards for the extended "wings" were a nice touch. I was worried the batwing fairing wouldn't close up with the thicker shield, but it sealed up just fine. The shield feels more sturdy than the 10" Harley wind splitter it replaced and the dark tint looks awesome. Thanks for an excellent product at a fair price. My only regret is not finding your company sooner.

Sincerely,

R. Bartell
Love it, works great. Thus is much 4th shield from you. I always recommend clearview shields.
Fit and finish of the shield is great. Price was a little on the high side. It took a month to receive the shield after I ordered it
My windshield Finally got here, I understand under the circumstances of the world that we live in now days , Definitely worth the wait. It was more that I could ask for. It took a little time to change the hardware out , But it was a perfect fit. Well constructed ,care was taken in the packaging as well. I would order again I would recommend to my fellow bikers.
I was amazed how the quality and the thickness of the windshields has changed over the years. You guys are awesome .
Craig – I have now been able to test your windshield for several thousand miles, and I must say it does everything you claimed it would. Primarily, it eliminates almost all of the wind buffeting that was hitting my head. The height is spot-on and there is absolutely no vision distortion around the edges like so may other windshields have. It also does a fantastic job of keeping the bugs and rain off me.

Thanks for your help with my selection. You have created a great product. If/when I trade bikes, I'll most likely be needing another Clearview recurve shield.

W. Wolfe
Terrific windshield. It's great to be able to buy a top notch windshield for my 20 year old bike!
Perfect fit for my 03 Nomad. CRYSTAL CLEAR and well manufactured. I ordered it standard height with a recurve and vent. Couldn't be happier.
Really like the windshield ,BUT, the time line is way to long!!!
Fitment was good and was just the right height. It blocked the wind as well as allowed me to view over the windshield. Excellent product. Have been ordered fromClearview for a number of years.
I have no idea how good your your windshields are I have been waiting since the beginning of July for my order to be filled. It better be something very special because I've been waiting so long. I think your request for my review is a little premature. But your website is awesome
Richard,
We do apologize for the wait. However your shield shipped 8.19.20. You should have received tracking information directly from UPS that evening.
Thank you for choosing Clearview Shields
Tonya
works perfectly... the service was the best ... would definitely look for Craig S.... commendations to him...
Fitment was Excellent! Looks much better than the tall clear windshield. Easy to install as the elongated bolt holes made starting the allen head bolts more simple. Thank you!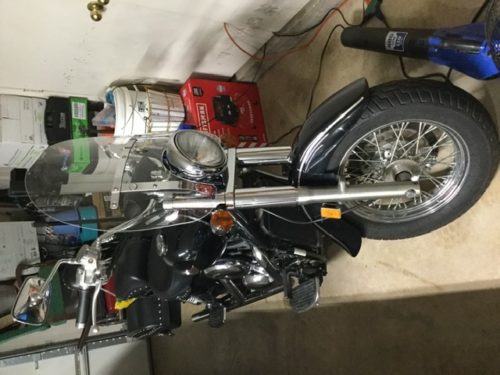 Went on without a hitch. Cut and finish were perfect. I would highly recommend veterans check out Clearview Shields before buying from another company. These guys are a class act and great to deal with.
Nice design and strong structure for the product.
The box arrived and right from the jump I could see that you folks are serious about a quality product. It was packaged to ensure I got it in the same condition you sent it.
Installing is bike specific so I'll leave that.
Riding behind it it where it truly performs.
It completely changed the character of my Valky which I purchased with a tinted shorty screen. ( it looked real cool, but was creating terrible turbulance and buffetting).
So far we are thrilled with all aspects of your company and product.
Nice fit the recurve is great and the larger width cuts down on wind noise
This windshield was just as advertised. Perfect match and fit to my 2013 HD Ultra Classic Limited Anniversary Edition. The customer service was outstanding as well. When I accidentally ordered the incorrect model, Craig was able to adjust without delay. Thank you very much.
Perfect fit and looks beautiful.
Very happy with windshield. Very easy to install.
I am very pleased with the windshield. It was very well packed and arrived in perfect condition. It fits my bike perfectly.
Thank you.
Dan Ryan
Looks great, fits like a glove, easy installation
Seems to work OK, good quality. Wish I had ordered an XXL tall. I just stick up too far. I am 6'6" and tall in the body.
Received windshield today and installed. Works as advertised. Short ride, will do a longer test ride tomorrow. Fast delivery.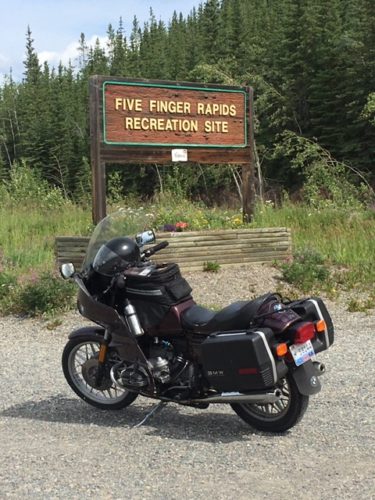 Being up in the Yukon and with Covid the windshield took 2 weeks to get it, no fault of Clearview. A- side from that this is my 3rd windshield for this bike and i have never been so pleased with this one from the fit ,price to the re-curve which i would recomend to anyone who has an issue with wind helmet noise. they gave me $25 off for a imperfection that i cant find. Good work guys
Had the 8" recurve with vent, switched seats which dropped me an inch. Bought a 6" recurve, both with vent. Both have been excellent and enhanced ride experience
great product! much thicker than stock
I have installed the Windscreen I received from you and the fit was perfect ! After 1 full hour of riding I can say that I am very happy with your product !

Thanks Again and I will get you a picture real soon !

Wayne
A quick note to let you know how pleased my pillion partner is with the new windshield. The '02 Goldwing trike that I purchased in March had the original stock windshield on it and Mary Jane complained about the wind beating her up. I had your oversize windshields on the two previous Kawasaki ZG 1200's that I owned and she was always pleased with the wind protection on those so I ordered one for the Goldwing.

Thanks for making me another excellent windshield for the Goldwing and for helping to keep Mary Jane happy with her riding experience.

Best Regards, John Ramsay
Craig….

Received my 19" recurved shield yesterday and have it installed on the 2020 Road King. Rode it 170 miles today and it is perfect on this bike. As usual, the quality is first rate. Just an FYI for you and your sales team. The 2020 Road King comes with a 20" windshield. I would guess that this is the same for all of the Milwaukee 8 Road Kings. I am 6' tall and 175 lbs. I ride in a good upright position and can tell you that a 20" windshield is way too high for someone of my size. I ordered the special 19" after putting my other Clearview 19.5" on this bike. I bought the 19.5" for my other Road King….a 2004. I have 93,000 miles on that one and the windshield is a perfect height. When I say "perfect", I mean a windshield that allows me to comfortably see over the top while blocking enough air to prevent helmet buffet. The 19.5 was, in my opinion, about a ½" too tall for the 2020 and thus the order for the 19". Turns out I was right as the 19" is a perfect height for a 6' rider who aims to look over the top of the windshield. So….if you are talking to a perspective customer looking to put a new windshield on a M-8 Road King, I would suggest a 19" if the rider is 6' tall and add or subtract height basis this relationship. Like my other Clearview, this new windshield is the only choice for touring on a Road King….no matter the year of the bike. You can quote me on that, too!

Good job guys…as usual! Thank you!!

Chuck Flynn
Helena, MT
Received new shield,fit the 2019 ElectraGlide Standard perfect,really looks great,thanks again George S.
I bought the small recurve Clearview shield with vent for my 2019 Voyager 1700. I have the stock seat, am 5'11" tall and I can see about 1 1/2" over the top of the new shield. I've only ridden about two hours so far and I'm very happy overall. The stock shield was far too tall, especially with this summer heat in Georgia. The vent in the new shield did not add much noise but did let in a reasonable amount of air. However, the vent air does get mixed in with air coming up from the forks so it's not a straight blast to my chest. The wind coming over the top of the shield hits right at the upper helmet vents so I get a bit more cooling but it doesn't cause any buffering. I was a little concerned about the black vinyl decal at the bottom of the shield but didn't really notice it while riding, and it's easily removable anyway. I had purchased a Clearview shield for my 2005 Honda VTX1300R several years ago so I knew I could count on quality, making the choice for my Voyager easy.
Clearview Team,

Received and installed by new windshield today on my 2020 Indian Scout Sixty.

The quality of the windshield is top notch and after a short ride is a 100% improve over the factory windshield.

Could not be happier with by purchase. Keep up the good work, I will telling all my biker friends about your great product.

Thank you.

Andy
Very impressed all around! I was contacted prior to the order shipping by their quality control to let me know there was a small haze and I could either receive a discount, or wait a couple days for a clean one. I opted to wait. 5 stars for their quality control and communications.

The company name doesn't lie. In day and night this thing is crystal clear. You will wash it more than normal just because you're looking through it (at least I am). I don't wear ear plugs anymore and my helmet isn't getting slammed on the freeway. I came from another well known brand that states they have the curve. Bought the tallest one they had and it's garbage. This blows it away. AND my radio sounds 100% better!
First off, I screwed up and ordered the wrong windshield for my bike. Contacted Craig and we arranged for a prompt replacement. Yes I paid shipping both way but I expected that. It's would be unrealistic to expect clearshields to eat that cost for my mistake. In both cases the windshield arrived faster than promised.
The quality of the windshield is excellent with no discernible flaws and a perfect fit to my brackets. I followed their instruction for determining the height that I need and it was ideal. Count me as very satisfied and a potential repeat customer.
Just got my windshield and installed it on my 99 goldwing. Fits great. Thicker than the previous one. Going out riding tomorrow and will see how I like it.
Nice shield but I screwed up. I ordered the scalloped cut because I think it looks great. It is only slightly wider than stock though which was what I was after. Should have ordered the standard cut. The scalloped cut isn't wide enough.
Awesome customer service and great product. Thank you for such a quick turn around on my shield.
This windshield is awesome. Wider & taller. Recurve pushes wind just over my helmet. Cuts wind noise dramatically. Haven't ridden in rain yet so as for that I can't say. Great windshield from a great company.
I love it! The best investment I ever put into my motorcycle.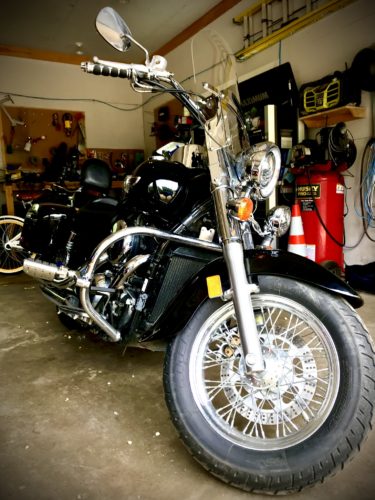 This windshield is by far better than the stock windshield. Buffeting is almost eliminated and I'm glad I took Clearviews advice to get the 5 way vent. It's great to have some airflow on the hot summer days.

Thanks for making my ride that much better
Love the wind shield. I should have changed it out a few years ago. The height is just as I needed it. Sturdy, clear and easy to install. I will definitely pass on to others on a great product. Thanks, Clearview Shields.
This windshield is fantastic. I got the longer/wider windshield along with the vent and the first time on the highway, what a difference. I will recommend to anyone I know who is looking for a windshield replacement or upgrade.
Looks great, love the vent and the windshield has no vibratiions or blurring at all. Ordered during covid crisis , was worried about on time delivery, but they did a great job and personally answer any questions you have, thanks.
Excellent quality, perfect fit-can't wait for next weekend to ride!!
I was coming home from work at 10:30 pm . Cruising about 55mph , when out of the ditch flew a red tail hawk. Smack!!! Dead center in windshield. Thank you for the quality windshield
Great product. Thicker material than other shields, The shield is shaped well and fits the road king brackets great. Mounts easy.

Highly recommend this shield
Good quality windshield. Would have liked for it to have been a little darker . Fit perfectly. No installation difficulties.
received in good shape, very well packed, all holes lined up and mounted easily with your directions. Looks great, Thank You!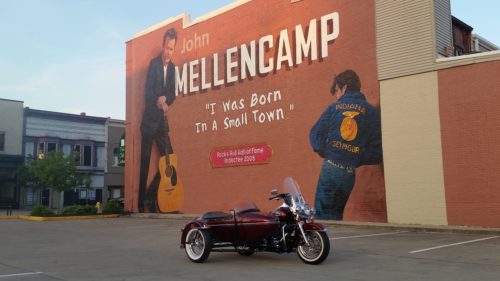 Perfect fit, absolutely "0" issues. Packaging was over the top. Thanks for a great product. ( it was worth the extra wait time) Thanks, Rod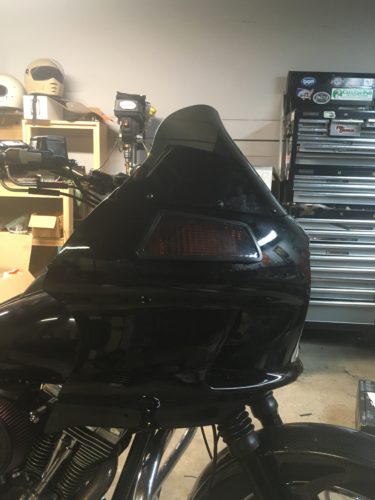 Overall quality is excellent.
Had a small issue with one of the mounting holes being smaller than the others and out of round but was easily fixed.
This is the nicest windshield you will find for an FXRT. Klockwerx version doesn't fit late style Fxrt and the cheap EBay shields are just a flat piece of thin plastic with some holes in it.
Nice product.
Thanks!
Even though it took quite a bit of time to receive my windshield, it's understandable because of Covid. Very professional and got timely response to my questions.
Overall the windshield provides good wind protection, only minor distortion viewing thru the windshield. The windshield very easy to install and fitness was very good. If the windshield can provide more clarity, it would be the perfect windshield.
Very impressed! It seemed a little thicker than the BMW oem.
This Windshield has made the difference in my comfort and in the buffering is gone. I like the light tint and i have a small that doesn't take away from the cool sporty look!
well made, no burrs, windshield was in perfect condition.. mounted easily to existing brackets and braces. fits just about perfectly on mount points. price is MUCH lower than dealerships.
The very fist thing I noticed about my new windshield was how clear it is even though it's noticeably thicker than my original windshield. The new windshield fits very well and was easy to install. I will be sure to recommend Clearview Shields to all my friends.
Absolutely perfect fitment.
Perfect fit excellent quality 👍🏻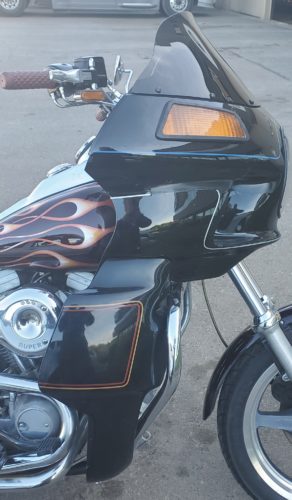 2nd rt windshield I've purchased, as always great quality and fit.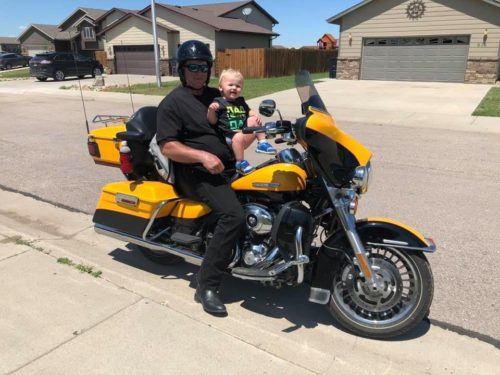 Awesome windshield! I had to have the windshield for a ride to the Blackhills. Clear shield was able to a. accommodate my request and meet my timeline. Put the shield on my 2013 Ultra and so glad I had it on for the ride. My wife can't believe how much wind reduction there was on her due to the extra width we ordered. Makes her ride even better. Thank you for a great product.
Very good shield. Very good fit.
Ordered on June 8. Received an email telling me that there was a 15 business day (3 1/2 week) lead time or maybe longer due to virus issues. Received the shield almost 30 days after order. The shield was well packaged and protected for shipment. The fit of the hole pattern was spot on for my motorcycle. The shield works as advertised in producing a nice "bubble" for the head and shoulders. The only negative is that right in the center of the shield, there is a small area of waviness which bends the view through just a bit. But again, it's a small area, just hard to miss it once you see it.
Overall, the fit, the performance, and the looks are an improvement over the stock offering on the bike. I would recommend this for anyone looking for a new shield on their ST 1300
Excellent! I've had 5 windshields on 2 different bikes. Wouldn't think twice about putting on another on my next bike.
I like this windshield. It is a perfect fit. Wasn't too hard to install the brackets from the old windshield onto the new windshield.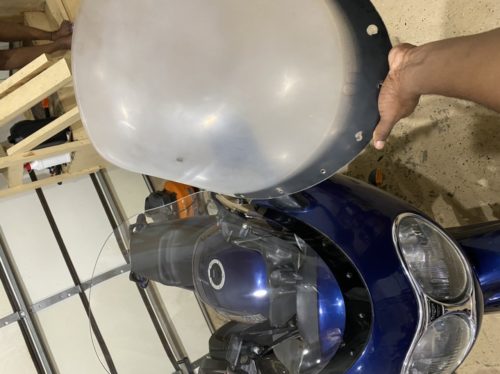 I would love to say this is the best looking shield I've ever seen. I went to get my bike inspected but my it failed because of my stock cloudy windshield. I went searching online to find clear view shields. Hands down best decision I've made. I order the 9hole small-clear shield.
quality I expected. fit to perfection. Shipped quickly and arrived in perfect condition. Easy to install as was cut/shaped perfectly. Slight recurve and larger size than original got rid of all helmet buffeting. Good quality vent installed. Would do it all over again. Good communications too.
This is a great windshield. So much better than my stock windshield. Less wind noise and buffeting. I went with the wider shield and it was the right choice. If you are unhappy with your stock shield, try this one. You won't be disappointed.
The windshield fit perfect.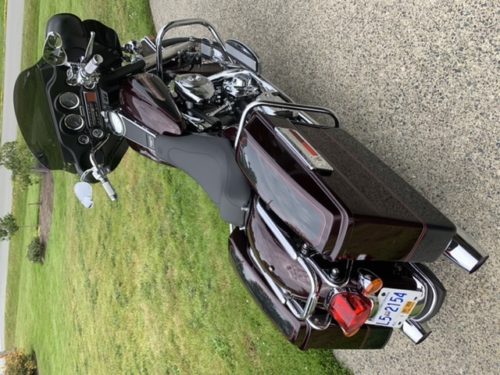 Excellent windshield! Fit perfect. Looks great. Cut down on buffeting by probably 90%. My wife noticed a huge improvement as well.
I first got the 21 " GT width. It was a bit too big for my small frame. So I got the stock height with recurve. It is an awesome windshield. It is a bit thicker than the stock and is sturdier. The recurve, is a great feature. It helps prevent buffeting. If you are on the fence. Make the purchase. You won't be disappointed. BTW even though I purchased 2 shields from clearview, it was still cheaper than buying an Orem replacement from Harley!
This is an outstanding product and an outstanding company to work with. I will provide an additional review and picture once I have it installed. I am waiting for Harley to get me the adhesive strips to reattach my hardware. Thanks Jeff
Love it! Noticed that extra width & recurve helped in wind protection. The light tint iis easy to see through & adds to the look of the HD. A high quality windshield & the 3rd I've owned. THANK YOU!
Perfect fit with original honda hardware
Well made, fit perfectly, looks great, enhanced riding experience
Love it thanks worth the wait
Love the vent!!! Bolted right into place, great fit! You might have to replace your mounting hardware though, as the Clearview Shield is a touch thicker than the original. This was not a problem for me.
This product is exactly as ordered. Fits my wife's bike perfectly. Turn around time was a bit lengthy but this was due to Coronavirus issues.
Perfect fit, very clear and nice. Wish i would have gone a bit taller, I am 5'8 and the wind buffers right in my eyes. My fault though.
I have only been able to ride about 35 miles since I installed the new windshield, but so far I really like it. My Honda Valkyrie has been converted into a trike, so my experience with this windshield will vary from some one on two wheels. I think that I will be very pleased with it.
Exactly as advertised. Looks absolutely perfect.
Purchased a re-curve GT light gray tint windshield for my black 2007 Road King Custom one month ago. Got it mounted on my bike and have ridden about 400 miles with it. Couldn't be more pleased! 2-1/2" shorter than my stock shield but yet no helmet buffeting at any speed. Now look over the top of the windshield instead of through it. Clairity and wind protection is excellent. A very quality product! Tom
The replacement windshield looks great and was easy to install with the pre drilled holes. I was somewhat disappointed with how long it took to receive but I was informed when I ordered it that COVID was slowing down orders so at least I knew not to expect a rish job. Overall, I'm very happy with the product.
Perfect product. Fast turn around time and we'll priced. I'll definitely buy from Clearview Shields again.
Great shield for my 2016 Indian Chief. I'm 6'1" and see completely over the 12" shield. Steering feels like no windshield at all and the wind pocket is great, no buffeting.
Nice shield had to buy some new hardware because shield was thicker then old one
The price seems a little steep but the fit and finish is nice. Honestly I was more stoked about the gasket that it came with - major improvement over the OEM part.
High quality windshield but the mounting holes don't line up very well.
Excellent product and excellent service. I ordered the dark recurve windshield for my 2006 Softail Deluxe and it is exactly what I needed and looks great on my white and black Harley
I really appreciate the help I got from the customer service aspect as well as the over all product I will definitely be using this company in the future and recommending to my friends
I purchased the 25.5" light tint windshield with vent, and it has transformed my Pacific Coast PC800. Helmet buffeting is gone and I can now hear my music through the fairing speakers. Craig was super helpful in exchanging the original 23.5" I bought as it was too short for my 6'1" height. My only suggestion is to clarify the measurement instructions on Clearview's website as vertical height and windshield length are two different dimensions!
Thank you!

I installed the shield last night, and I'm
VERY IMPRESSED!!! Exact fit, MUCH more sturdy than the original. Amazing!
And also very impressed with the customer service! The phone call about a nick that developed in production ; the ask If I'd still receive it at a discount, everything - first class! Well done!!
K Robinson
The shield i bought for my 2016 Goldwing is amazing, well built and I would have to say better the the factory shield that come with the bike,customer service answered all my questions right away. I know I will never have to buy another shield but if I had to I'd buy from clearview shield in a heart beat
Showed up on time and in very good packaging, very pleased with the clarity and performance at all speeds. Would definitely buy again. Thanks CV
great product, perfect fit, very happy with this company...
The windshield for my Triumph rocket 3t fit perfectly, I ordered it 3" taller
than stock with recurve, I am 6' 5" and it is right for me, very quiet.
The shield is certainly worth the price.
Great product. Very satisfied.
I needed 1" higher windshield over stock on my CVO Limited to minimize head buffeting at speed. The LARGE size accomplished this perfectly. Looks factory stock; quality is amazing. Meticulously packed and shipped as noted considering COVID-19 delays. Very happy with my choice. And they're a local Colorado company. Great experience. Thanks.
so far woking as promised
I love the quality of this product and fit was perfect
I purchased the sport tinted shield for my Valkyrie Interstate. It arrived quickly and fit perfectly. It causes much less buffeting than the stock shield. And it makes my bike look way better and updated. Lots of compliments. A Great Product.
Hi Craig. I received my windshield today and already put it on my 2010 Ultra Classic. I'm very pleased with this windshield!!!

Thank you for your outstanding customer service and staying in touch with me as to the status of my order. I will definitely refer you to other riders I come in contact with!

Again, thank you from a very satisfied customer!

C Coates
Fire ,fits flush and clean, heavy thick solid shield recommend this for wind and the elements if you have FXR or want the police style wind shield
The windshield is preforming well. Road through rain, with the added width and height I didn't have to stop for rain gear and stayed dry. It also cleaned easily of the bugs at the end of the day.
Good improvement over the stock shield. Wind still buffs your head a little bit at 65-70 but it isn't bad. 2014 HD Street Glide.
Clearview was exactly what I wanted their Directions on measuring made it simple as you can see perfect for the bike
Wow! Not what I expected. I bought this wind shield because I just installed my last Harley wind shield and I wanted one for inventory. This wind shield is almost twice as thick as a stock one!
This is a great windshield! I actually ordered the wrong one the first time, and they were so helpful with identifying my mistake and getting me the correct windshield as an exchange. Thanks for a great product and great customer service!
Fit, quality Wind protection is good, Not quite as distortion free as I expected.
Fits well, looks great on the bike. Seems very durable and well made.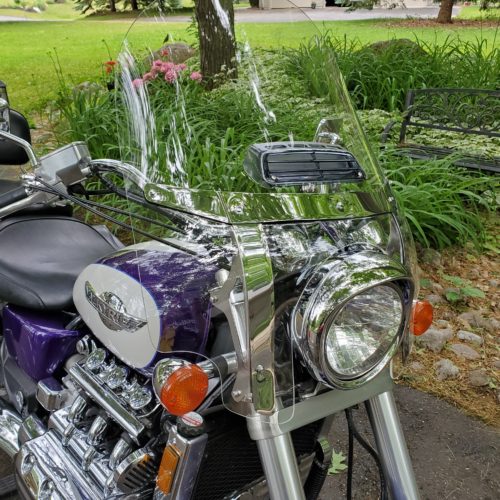 We are incredibly pleased with the windshield. The bike looks brand new. Also, the vent is a great feature, so appreciated on the hot days and also to preventing fogging. Thank you for your great work!
Thank you for sending me my clearview screen it arrived this morning and I fitted it this afternoon and I'm very pleased with the screen it went together very well and looks great once again thank you very much kevin
Better than the OEM accessory part!! Great fit & finish!!
The light gray is a perfect tint for me. The fit and finish are concourse quaility. The crew at clearview are family now. Buy one for all your bikes.
We really like the windshield. Unbelievable how the wider shield knocks down the wind for my wife. Love it!
Dave
Windshield was delivered and fits perfect. Your guide for measurements is spot on. Really appreciate you working it and getting it to me. Now I want have double vision looking under and over the stock windshield. Also like that it's wider on both sides. That should help with the wife. You guys are awesome and I hope you make a full recovery and back to normal operations.
Thank you kindly,
Dave
After I placed my online order, I received a phone call in regards to my selection for shipment to Canada. I was pleased to be informed to change my choice to USPS in order to save money. Decided to go with a 21" Clearview for my 2003 Kawasaki Concours. I am 5'10" with 32" inseam and wanted to be able to see over the shield. It is perfect! Installation was a breeze with the supplied hardware and I was very happy with the high level of quality craftsmanship. The shield provides great protection with a quiet non-buffeting environment. Thank-you Clearview for increasing my riding enjoyment. Cheers!
It was well packed arrived with no damage, it fit perfectly exactly what I was looking for. It did take a while for shipping to Canada so if ordering out of the USA just be patience it's worth the wait
easy install, perfect fit and height, nice and clear.
Large windshield, no vent, clear color.

The windsheild is great! Night and day difference compared to the stock shield. After riding, the only issue i have is a little bit of wind buffeting on the very top of my helmet. However it isnt too concerning. Im 6 foot 2 inches tall, but i have a longer torso than normal. With doing the measurement as specified, i measuered in between the large and XL size shield. I picked the L size because i wanted to look over the shield and not through it. An XL would fixed the buffeting, but i dont want to look through the shield.
Excellent windshield. Love it. Only issue I have (my Fault) is, I should have had the shield sent USPS to Canada. I got dinged for duties and brokerage fees by sending it FedEx. Heads up to any other Canadians.
Fit perfectly the light tint looks great with the black sidecar.
A little disappointed that it didn't come with the hardware kit like the windshield for the bike did.
Looks great, the recurve doesn't distort my view. Fit perfectly.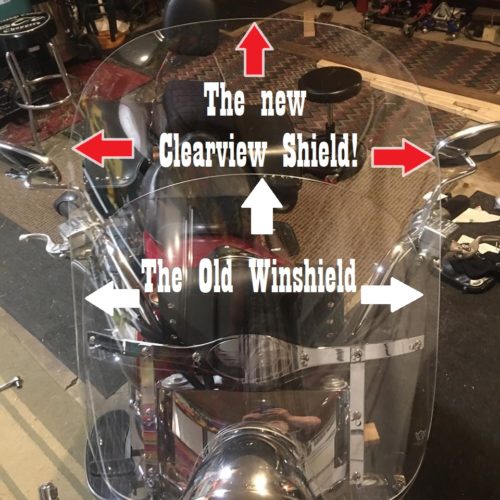 Absolutely perfect! Great fit, great packing! I am 6'4" and needed a larger windshield so I ordered the largest they had (including the +1 wide and re-curve) and it's perfect. The wind goes right over the top of my head now. It's a great product and well worth the app. 2 week lead time. Absolutely highly recommend this company and their product. AAA+++ Thank you for making riding comfortable again!
I'm very happy with my new Clearview windshield. I can't believe the difference over the OEM shield. It's so much quieter that I have to watch my speed, and I'm no longer getting a constant blast of air on the backs of my hands. This was a real problem riding in cold weather.
shield arrived today in very good condition because of your safe protection of the package
i already installed it, very good product
The windshield came today and looks awesome. Thank you so much for your great customer service. -Hill
The product is great! Workmanship is flaweless. Very pleased with the result.
My windshield came well wrapped and in excellent shape. The shims make it a little hard to install but they are a great idea, I just wish they would have sent a couple extra as I either lost one or was missing one. Also I didn't realize what the vent meant so didn't order one now I am sorry I didn't as I had to use the old one as a shim. Otherwise it is a great product that I highly recommend.
This was vary good windshield, fits well and was exactly what I wanted
Absolutely amazing. I love it very clear and durable I used my motorcycle polish on it and it helps bead off water and didn't cause it to be hazy or cloudy.
Great looking! Great fit to the OEM hardware!
Great custom windshield for my bike. Great customer service. Even during the pandemic they gave me updates. I will definitely buy another shield from them again.
Considering the high cost it was hard to fit to my factory Harley sidecar, windshield is to thick, good quality though just a little to thick.
What an amazing difference. I live in north central Alberta Canada and it can get quite chilly riding - by switching to a Clearview Windshield and adding 2" in height and 1" in width I am able to stay warmer and no more bugs in mouth. It was the first time I rode without a bandana. Awesome job on the windshield and an awesome product
I was very impressed with the quality and fit of my new windshield. I extremely happy with my purchase
Clearview is the best there is ! I've been using them for 12 years on all my Harleys !
Love my new windshield
Fits perfectly on my bike and was easy to install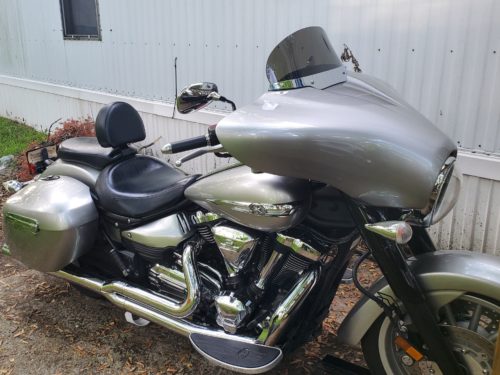 I purchased the 6" tinted windshield with the recurve for my 2012 stratoliner deluxe. I am so happy with the quality and of course the look of it on my bike. The only problem I have is the bottom of the shield sticks out just a bit lower than the trim piece on both ends. All in all a fantastic product and I will most likely be buying from them again.
Very good product
Been using this windshield for 15 years not one scratch,stays clear as new
This is the second windshield I've ordered from Clearview. Both were game changers for riding comfort. I went from annoying buffeting to smooth air over my head. Also great company to deal with, great communication.
I'm happy with this replacement windshield and I rate it an 11 out of 10. The quality of materials, finish, and service is high. I purchased the clear 17" with recurve and vent. I would recommend to anyone that is riding on the highway to buy big and get the vent. I don't know if the recurve makes much difference, there is a little optical distortion at the bend. It isn't noticeable after initial view. IMHO all the work to measure out looking over the windshield is overrated. I'm looking through the windshield and now I clean the bugs off the windshield and not my helmet visor. In fact, now I'm able to ride with my visor up and the vent open, so I get a little cooling wind in my face. Before, I had to ride with my visor down or the wind buffeting was shaking my fillings loose. The trade off of looking through the windshield and not a helmet visor is a good one if the windshield is clear. As for tint, I like the clear view and I use my sunglasses and helmet sun visor to adjust for sunlight. A tinted windshield to me is an unadjustable feature, which like a broken clock, is right only one time of day. I don't drive with sunglasses when the sun goes down, so a tinted windshield isn't helpful when I need visibility and I need others to see me. Thank you Clearview Shields. I'm happy with my purchase and your product.
Windshield came as expected and is of great quality.
Best in the business as far as I am concerned.
Excellent fit and works perfectly to create that air pocket that makes this recurve the best.
Easy installation .
Your shield fit my 2001 Kawasaki perfectly. I especially liked the black spacers keeping the bolts from being tighten to much. that's what destroyed my original shield.
This is the second windshield I bought from this company first one was for my FXRT and now for my FLHT these are by far the best windshields and I've been in the business for over 40 years I have never come across a better made windshield in my 40 years of wrenching on motorcycles
It looks and works great, wind is directed over your head with the recurve and the optical clarity is good.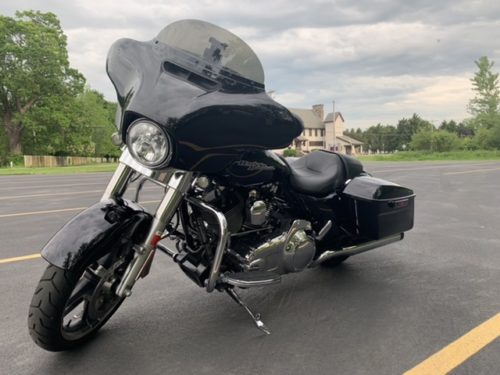 +3
Great product and great price! The company does top notch work. The windscreen is high quality, does its job perfectly and Looks really good on the bike. I Highly recommend this company and their products! Thanks 🤘😎👍
I'm very happy with my shield it's what I expected, High quality I recommend it
I am very happy with how it worked out
Very happy with the windshield. Easy to install. Super clarity. The service I received was really great. You were recommended by a friend who was also satisfied with the windshield he received. I also ordered a new windshield for my 2009 gold wing. Thanks again.
I love my new windshield!!! Bolted right on perfectly. Thank you!
Excellent fit, shipping too costly
Great product fit and looks great
I found the Clearview site looking for aftermarket replacement windshield for my Ultra limited. I debated on ordering a 4 inch or 6.5 inch windshield so I ordered both. I mounted each shield and rode around the block a few time to check the top of the windshield in my line of sign and both were out of my line of sight. I kept the 4" shield on for a weekend trip and was very please with the recurve flowing the air just over the top of my helmet, (I'm 5' 10") and the short shield worked very well. We rode thru some heavy rain (read monsoon type rain) and the shorter shield preformed well. Next trip going with the 6.5" shield which I expect will perform equally as well and offer a little more rain protection.

Both shields are excellent in quality and optical clarity: no distortion whatsoever looking thru shield compared to not looking thru the shield.

Very happy with Clearview and w recommend to all looking fa new windshield.
Took about a month but I was aware of this when ordering as it was during the covid-19 crisis. Finally received and it's awesome, I got light gray instead of clear, which I originally ordered, but since clear was hard to come by again due to covid-19, they reached out to make sure I'd be happy with the switch. Glad I did, i went with a recurve gt width, 18" height and no vent for my 2019 Harley heritage classic. I'm 5'9" with about a 31" inseam. Fits me well, takes quite a bit more air away from my body, top of my helmet just catches the wind but only way to truly stop that is to go so tall I look through it, but not what I was looking for. I love it very high quality very well shipped and made. Thanks guys!
I ordered a replacement windshield for my Honda ST1300. I ordered it with side vents which has made riding in the California heat more bearable. Great looking and a great product.
Perfect fit. I got this as my road windshield. The wind is much easier on my arms and face due to the extra width and pitch of the shield. Definitely worth the money for me.
Very high quality and great looking! Would definitely recommend you use this for a replacement for the OEM windscreen. Very happy with the communication from the Clearview Shields team and how quickly the order was shipped out to me.
I'm a tall fella, and the head buffeting I was getting from the stock windshield was sucking the joy right out of riding. I had switched over to a police saddle and this raised my noggin straight up into some pretty turbulent air. I know a shield over 20" looks kind of awkward, but man oh man, I can comfortably ride in the saddle all day long without excessive fatigue. No regrets here, a solid purchase.
Works well. Definitely puts me in a calmer air flow.
Shield is great just what I wanted
I like it. Wider width than stock.
Great shield! Delivered on time; easy installation on my 2007 Yamaha Royal Star Venture. High quality. Perfect fit. Ordered the large 21" (1.5" lower than stock) to replace a short windshield. Take their advice if not sure which one to order, and order the shorter one. Eliminated my helmet buffeting problem on all my Yamahas. This is my third Royal Star. No problem for the passenger either. Love the extra width, too!
Quality build, great fit and looks good. Rugged at higher speeds and deflects wind great. Will use them again next time I need a shield.
Its amazing.......unfortunately I ordered mine right before the pandemic. They contacted me the next day and informed me of possible delay. After a week or two they emailed again and stated the clear plastic (my choice) was in heavy demand and further days were possible. They suggested that I go with a light grey (free upgrade) to keep my order on schedule. I did just that. It arrived and I couldn't be happier. They're communication and customer service is outstanding. Highly recommend over all competitors.
The Clearview Shield is an excellent product, the install was easy and it has delivered the airflow that I wanted.
There is one small problem with the package, the Honda PRV vent liners are not a great fit. The spacing between the front and the back of the shield does not appear to be consistent with a constant shield thickness. In some places either the front or the back do not stay in contact with the shield. I am sure that they will function; however, they represent a small negative for an otherwise beautiful shield.
I ordered the standard sized windshield with a vent. The fit was perfect and it looks great. It was easy to install. Besides the vent, the only way to tell this is not an original Honda windshield is the original Honda wind shield extends across below the headlight. The new windshield does not. It is just something to be aware of aesthetically. Performance is just as good. the new one makes for easier cleaning behind the windshield without having to remove it. This is the third windshield (for different bikes) that I have ordered over the years through Clearview Shields. Quality has always been top notch and I would not hesitate to order another one from them if I needed it. Both their service and quality have been great for me.
"I recommend Craig S. at Clearview Shields and his entire staff. I ordered a 13" light gray, recurve windhield with a vent for my 2018 Kawi Vaquero and am extremely happy with the performance, look, fit, & quality workmanship. This is my second windshield from them. First was for a 2011 Yamaha Stratoliner Deluxe. Highly recommend Clearview!"
Thanks for the new shield,came well packed ,no damage,fit the F6B perfectly. Again Thanks.
Have owned three of these windshields. Excellent product and great company to deal with. Had to cancel this recent order. They were good about it and a few days latter I received a refund check in the mail. Encourage you to buy! Good product, good price and great people. Thanks Dennis!
I have had Great luck with my Clearview Windshields.
Easy to install and works great!
Arrived well packed and protected. Bolted on in minutes and does a fantastic job. With the stock shield the radio was useless after 55mph, now I get my music and remain bug free up to 80mph now!
Be prepared to wait for it more than you might normally would due to COVID19, as would be expected, but that was explained to me when I ordered the windshield. Also, when I emailed for a status during the wait, I got a prompt response. It arrived in perfect condition in a safe cardboard container, with plastic film on both front and back. Fit was perfect, and there were no blemishes. Vent worked perfectly. Quality product, good thickness, very stable at interstate speeds. Recommended!
Nice material and craftsmanship. Well packed and good instructions. Looks great on bike. Only one short ride so far. Thanks.