DON'T BUY a Cheap or Junky Bike Shield!
FInally, Serious SHields for Serious Riders
Would you like to have:
The Finest Motorcycle Windshield at the BEST PRICE

A Windshield Hand-Crafted JUST for you

Tons of Tint, Height, Width, Recurve & Vent Options

An Easy Install & Expert Customer Support

LESS shake & LESS WIND in your face
Allen N.
I was about to give up on my 2019 Scout because the wind buffeting and wobbling was UNSAFE. I am 5'7″ and the Small size windshield is perfect. I also installed the lowers. I am pleased to announce that I will keep the bike now that it is rideable. Wobbling gone. Nothing else worked. Congratulations on a product that WORKS!
Get the FInest WINDSHIELD NOW AT 20% OFF - CODE: cybr19
If you're SICK of a Noisy Ride – We can help
If you're TIRED OF WIND beating on you – We can help
If you're OVER shake and vibration – We can help
Dear Motorcycle Riders,
I understand that when buying an aftermarket motorcycle windshield, there are multiple factors to consider. If you want to get a modern and customizable look, have the functionality that exceeds your standards, or even if you just want to ride with less noise and wind, then this is the most important site you'll visit all year!
Here's why…
You've searched for a high quality windshield that fits your needs and looks great with your ride. Getting all the options you need is important, and we at Clearview Shields know this. You'll avoid common mistakes in picking out a windshield because we've studied everything about manufacturing techniques, style, and usability. We've tested numerous sizes and options over the past 30 years and the result is the BEST motorcycle windshield money can buy. At Clearview Shields, we all ride, so we get your needs as a biker. We test windshields daily so you can rest assured you're getting a stylish, superior quality, and thoroughly inspected shield, we guarantee it!
Here's what our customers are saying
8″ Height | Smoke Tint | Recurve
My mechanic told me about these guys so I went with them as their prices are very competitive. I am absolutely thrilled with the windshield, it is so clear I can't believe it!! I love the curve and smoked tint. It gives my bike a whole new look. I would highly recommend these guys if you are looking for a windshield for your bike. This is the best windshield I've ever had.
-Jeff Haskins
Indian Vintage Windshield Size Medium GT Width Light Gray
Love My Clearview
-Karl Hoffman
24″ Height | Clear | Recurve
On June 29 we began a 2,400 mile ten day tour of the New England states where we had a "Clearview" of the country side. To you and the team at "Clearview Shields" I extend a THANK YOU for an excellent product. As a followup I now have over 4,00 miles on the windshield and it still looks like new. The shield blocks the wind and bugs but allows enough air circulation for a pleasurable ride. Your windshield is 2X the thickness of my stock shield. I ordered the 'looking through' height with extra width and the windshield was an exact fit with under 1/2 hour for installation. My only regret is that I didn't order it sooner. I have attached a couple of pictures to show what a compliment the windshield is to the bike. Thanks again for supplying a quality product and exceptional customer service.
-Doug Metz
Medium Sculpted Windshield in Light Gray
As promised, attached is the updated picture of me riding my 2019 Road Glide on the Tail of the Dragon smoking a cigar behind a Clearview windshield. Second screen and lovin every minute with it
-Kramer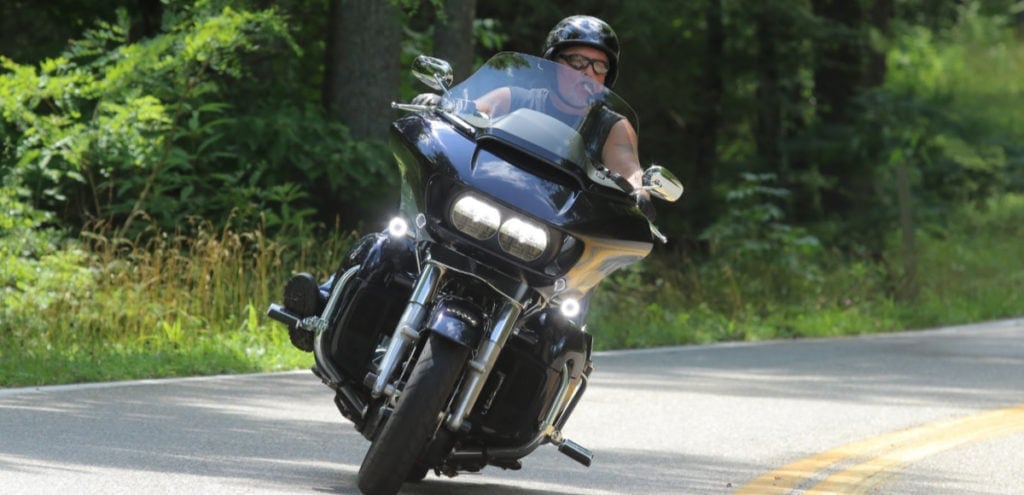 Here's how and why I can make you this promise...
My name is Craig Stenger and I'm a Biker and Professional Windshield Maker.
I've been riding for over 30 years. Together with my family, we design and build the finest Motorcycle windshields on the market. We've designed hundreds of shields using customer feedback, wind tunnel tests, and demanding DOT guidelines, and over the years have perfected the process. Clearview windshields not only look amazing, but are sleek and functional to boot. Our company has everything you need to customize a shield to suit your individual riding style. The great thing is, you will get continuous support if you need it through our 5-star rated customer support hotline.
You can have your own windshield custom designed and ready within a couple of weeks.
The sooner you order, the sooner you'll be on the open road, & now is the BEST time of year to purchase!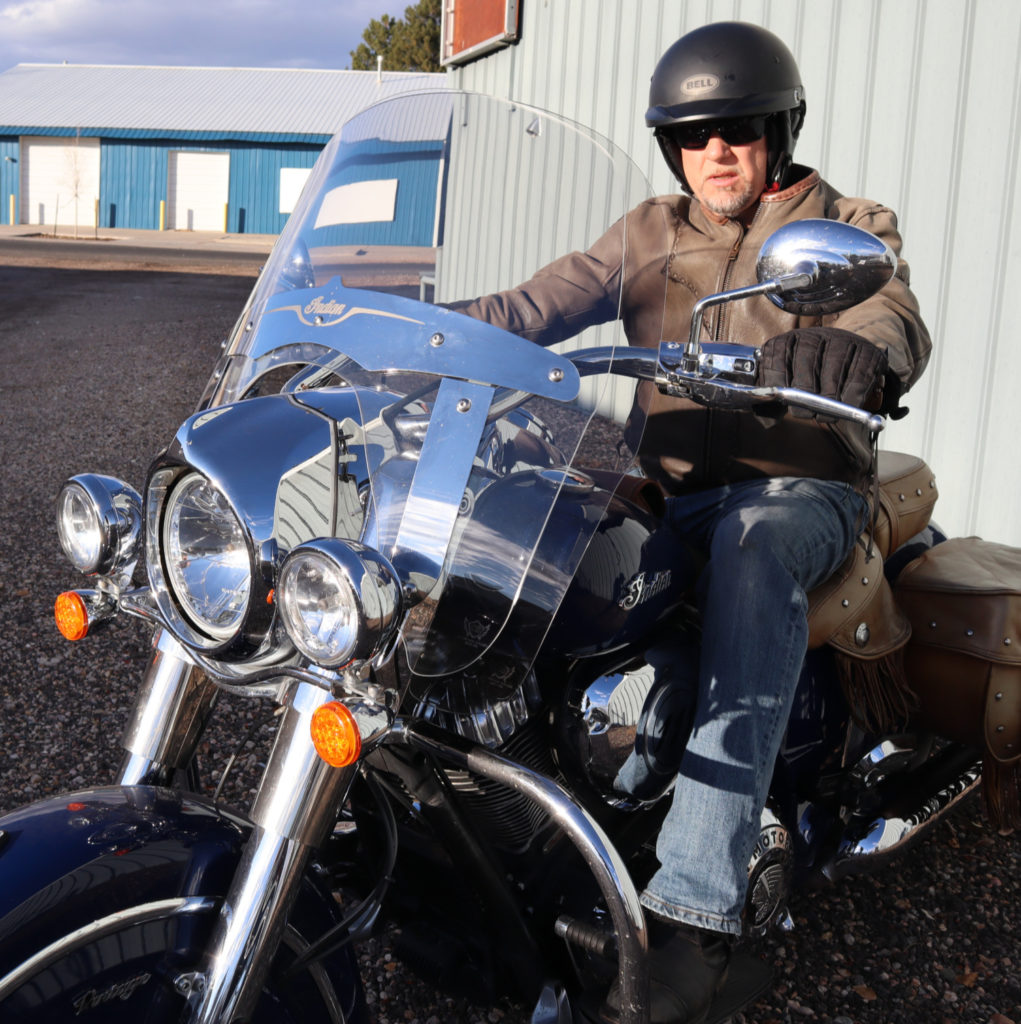 Your bike is part of your lifestyle
Michael
"I had a Yamaha Warrior with a Clearview shield and thought it worked great, so I was happy they made one with a vent for my new Road King.
It's been too cold to use the vent, but the curve at the top gets rid of the harsh wind noise I was getting in my helmet off the OEM windscreen."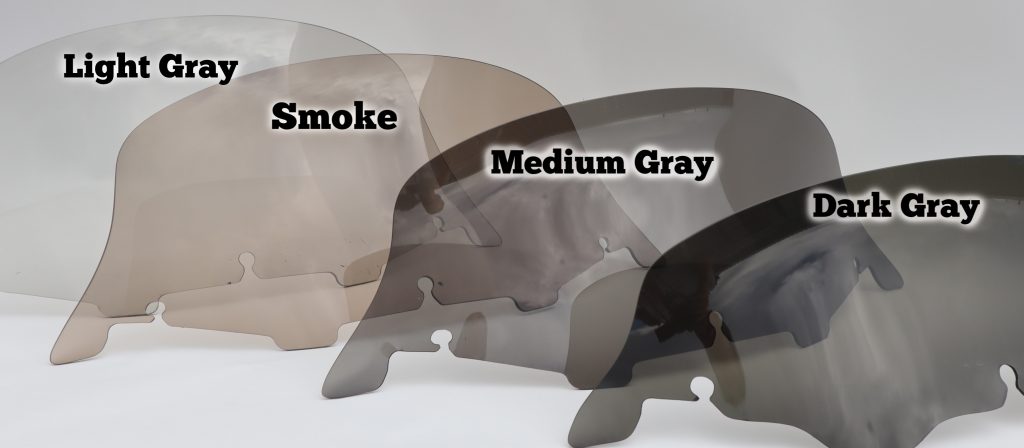 Albert
"The windshield fits perfectly, it clears the headlight bucket just right. I'm extremely happy with it
Harley Davidson Compact Windshield 15.5″ Dark Gray with Recurved Top edge."
Jeffrey
"Absolutely the best quality and fitting windshield that one could get. Makes stock look like a toy (sorry Suzuki). I needed the extra height and width and I got it. Easy to install and they are online and on the phone if you need some assist. Quick delivery and the vent will be pretty cool (pun, totally intentional) this Summer. Thanks Clearview!"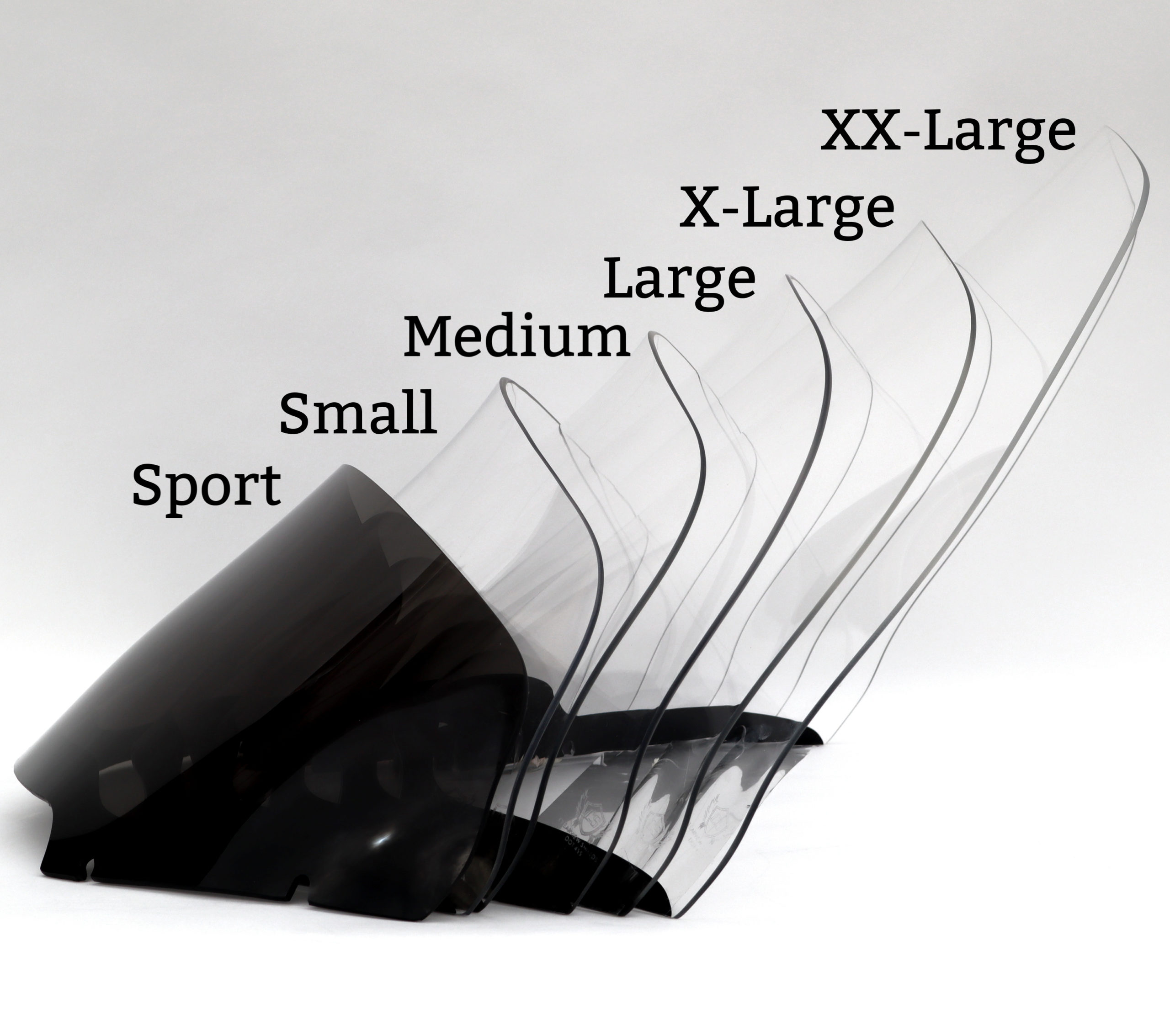 Height Options
Options include Recurve, Height, and Width
Here's Just The Tip of The Iceberg of What You Get...
Custom sized aftermarket motorcycle windshield: Handcrafted for your personal riding style… which means a QUIETER RIDE and NO MORE WIND in your face.

Tint options: Avoid the harsh glare of the sun… and give your ride a truly custom and unique look.

Venting options: Keep cool on those hot summer days.

Recurve: Feel LESS WIND and enjoy a deeper air pocket… you AND your passenger will be more comfortable.

Hand Polished edges as opposed to torch finishing. This means no cracked windshield edges down the road. Yep…Handcrafted Quality!

Made from Premium Scratch Resistant High Impact Optically Clear Hard-coated Polycarbonate: So you can SEE CLEARLY…sit back and enjoy the scenery.

Thicker than a Stock Shield. No flimsy windscreens here. This means LESS SHAKE or flex than your old stock shield: PEACE & QUIET.

FAST & EASY Installation: Get out of the garage…and back on the open road fast, where you belong!
So Here's The Bottom Line With Clearview Shields:
Take A Full 30 Days To Put Us To The Test With Our Iron-Clad, Replacement Guarantee
If Clearview Shields doesn't make exactly what you want in a windshield with a modern and customized look… if the functionality doesn't exceed your standards… or if your windshield fails to help you ride with less noise and wind, then understand Clearview Shields will make it right, Just Call our Customer Support Line at anytime: 800-798-6089
As you can see, all the risk is squarely on our shoulders.
Soon you'll be on your way to enjoying all the benefits we've talked about. Let's get started.
Simple 3 Step Process

Step #1: Write down this
CODE: cybr19
Step #2: Click your Brand, then Model
Step #3: Enter the CODE at Checkout
To RIDING and the Open Road!
Craig Stenger
P.S. – Before you know it, you'll be on the road with less noise and less wind with a handcrafted shield that suits your ride and riding style. Enjoy your CLEARVIEW. Act now and take advantage of our best deal of the year!
ClearView Shields
800-798-6089
(c) Craig Stenger / ClearView Shields – All Rights Reserved